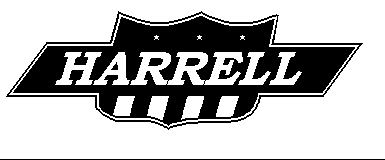 Dick Harrell Performance Center
11114 Hickman Drive
Kansas City, MO 64134
Mr. Chevrolet, Mr. Excitement--these were the words used to describe Dick Harrell during his brief career as a race car driver and as a race car builder. Dick built his reputation as a race car driver first in the mid '60s, and then turned his efforts to race car building, as well as driving. His first effort in building race cars was with Nickey Chevrolet in Chicago. After a couple of years at Nickey, he moved to St. Louis and then on to Kansas City, where he continued to build and race cars. Dick helped engineer many of the cars for the major dealerships, including Yenko and Gibb. Even though Harrell put his emblem on many high performance cars, including a few 1969 COPOs, he is most remembered for the
'68 Novas, an L-78 automatic COPO car that Dick transformed into a supercar with the addition of a 427 engine, Cragar wheels, and many other items that the customer might want on the car. He also "warmed up" a few of the L-78 automatic Novas that Gibb received. As a race car driver, Dick was unmatched in his success. He drove the #1 ZL-1 built for Fred Gibb in '69 to many wins, set a world record, was named AHRA Driver of the Year, was on Hot Rod magazine's top ten list of drivers for 1969, and was AHRA World Points Champion. Dick suffered an untimely death in his funny car in 1971. Not only will Dick Harrell be remembered as a very successful driver, but as one of the driving forces behind the boom of high performance cars in the '60s and '70s.
Dick Harrell's Performance Center in Kansas City, MO started the trend of ordering COPO cars built for drag racing, such as this '68 Nova, 1 of 50 Novas with the Turbo 400 trans. Here is a good picture of the front of the car with the stinger hood (with a Harrell tuned 427 underneath). This car is an unrestored survivor, and is still owned by the original owner. WOW!!
The owner of the car above has TONS of original paperwork and memorabilia. Here is an original business card and an orignal Harrell patch.
Here is a '69 Harrell COPO Camaro. This Jade Metallic Green Camaro is one of the few COPOs that Harrell sold, and is one of the even fewer remaining Harrell sold COPOs.
New for 1970 was the Monte Carlo, which gave Dick Harrell yet another opportunity to work his hi-performance magic. A gentleman's car, with a street fighter's muscle.