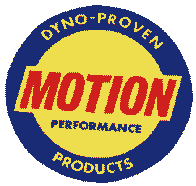 Baldwin-Motion Performance
598 Sunrise Highway
Baldwin, Long Island, NY
Say the words Baldwin-Motion or just Motion around car nuts and watch them perk up. Joel Rosen set the East coast racing scene on its ear when he came up with the idea to take new Chevrolets, sold through Baldwin Chevrolet, to his shop and turn them into some of the fastest street/strip cars ever. Joel's engine of choice was usually the L-88, with the first being put into a 1967 Camaro. So confident of his cars, Motion offered a guarantee with his Phase III Camaros, that they would run 11.50 at 120 mph. Motion not only built up the power train, but was into the exterior as well. Fiberglass hoods, including Stinger hoods on the earlier cars and the famous L-88 bulge hood on the later cars, distinctive stripes, etc., set the Motion cars apart from the rest. Besides turning new muscle cars
into supercars, Motion had a large mail-order business where the customers could order and build the car of their dreams. Motion probably pushed the envelope to the limit when it built a 454 powered Vega. The famous Motion emblem can be found on almost any model that Chevrolet sold in the late '60s and early '70s, with the most popular being Camaros and Corvettes. In 1969, Joel and Bill Mitchell raced a 1969 Camaro and took the A/Modified Production record away from Bill "Grumpy" Jenkins.
How about a 500+hp 427, 4-speed trans, and sidepipes, all in an ultra-light weight vette? This '69 Corvette Baldwin-Motion Phase III 427, (which was originally bought for $7,672!), is one of just 12 Phase III Corvettes sold in '69, with around 5 known to still exist.
Surviving intact and virtually untouched from the day it was bought from Baldwin-Motion, this '69 Phase III Camaro shows not quite 6,000 miles on the odometer. Featuring a 500+hp 427, sidepipes, 4-speed (with Hone-O-Drive overdrive), 4.56 rear gears, and NO TACH, this Camaro is sure to be an exciting ride. Still on the window, and alerting all who care to look of its $9,330 sticker price, is the original window sticker from Motion. Or maybe this more understated '69 Baldwin-Motion Camaro is more your style.
Here is a car that was a big time player in the street wars: a '69 Baldwin-Motion Phase III GT Corvette! It features an LS-6 454 with aluminum heads and 950cfm Holley 3 barrel carb. Would you like to try your luck?
Here's a '71 Baldwin-Motion Camaro, which started out as a Z-28, with an M-21 and 4.10 gears. Joel Rosen then installed an LS-6 454, and a few other goodies, just for good measure, including the white stripes and wild hood.
This car is also a '71 Baldwin-Motion Phase III Camaro. This car also has a 454, but is equipped with a Hone-O-Drive transmission, but has black stripes and a fiberglass hood.
THE LAST Baldwin-Motion Chevelle! Here is a '73 Phase III Chevelle packing a L-88 427, an M-22 4-speed, 4.88 rear gears, and the Hone-O-Drive overdrive. This car was the only Phase III Chevelle produced in '73. When purchased new, this car sold for $12,030, making it the most expensive Chevelle Motion ever built. What a bargain!