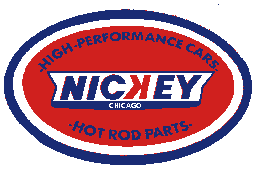 Nickey Chevrolet
4501 Irving Park Road
Chicago, IL
In the late '60s and early '70s, a backward K put the terror into many a racer. This backward K meant that you were up against a "Nickey" built car from the dealership owned by Edward and John Stephani, the midwest's one stop high performance marketplace. Nickey joined Bill Thomas from California in the venture that would become one of the country's largest sellers of high performance cars and parts. This was accomplished through lots of advertising, distributing a large mail-order catalog, and by selling some of the hottest cars

ever built. If you had the money, Nickey would either build you the car and/or sell you the parts to build it. If the lure of owning a supercar wasn't enough to get you hooked, Nickey advertised that they would pay the airfare one-way for you to pick up the car of your choice. Most Nickey cars were Camaros, even though you could get other models such as Novas and Chevelles.
Here is a '67 Tahoe Turquoise Nickey Camaro with a Tri-power 427 and the evil looking Stinger hood. This car was originally an SS350 with the Rally Sport option, 4 speed, and a 3.73 rearend.
If you like red, try this '67 Bolero Red Nickey Camaro. This car also features a Tri-power 435hp 427, with an M-22 four-speed, and a 4.10 rearend. This car also a tilt wheel, console, and guage package.
If you are into Chevelles, check out the only '67 Nickey Chevelle known to exist! This car was an original low horsepower 396 car, but was taken back to Nickey (where it was sold new) and a 396/375hp was installed. The car was well optioned from the factory with: console, air conditioning, power steering and brakes, tilt wheel, and speed warning indicator (it buzzes when you reach a predetermined speed)--think you could make it buzz in this car?