April 2000 Feature car:
Mark Hassett's 1969 ZL-1 Camaro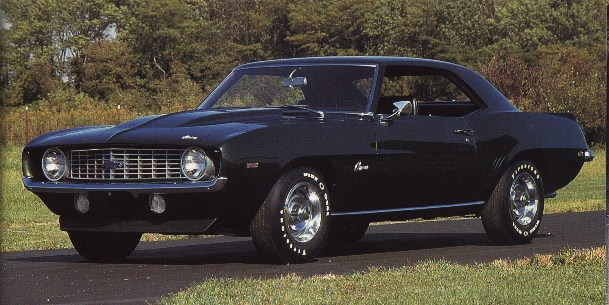 Specs:

Engine:

427 (aluminum block, heads, intake)

Horsepower (factory):

430@5,200

Torque (factory):

450@4,400

Carb:

850 cfm Holley "double pumper"

Transmission:

4 speed (M-21)

Rear-end:

4.10 posi

Exterior color:

Fathom Green

Interior color:

Black

1/4 mile ET:

11.78@122.50 (Popular Hot Rodding, 7-'69)

1/4 mile ET:

13.16@110.21 (Hi-Performance Cars, 6-'69)
---
"This ZL-1 Camaro, # 35, was sold new by Sutliff Chevrolet in Harrisburg, PA, on September 19, 1970, to Douglas Leesman, of Pulaski, IL. It was 1 of 37 ZL-1s returned to Chevrolet by Gibb Chevrolet. Out of 69 ZL-1 Camaros built, this car is 1 of 8 Fathom green, 4 speed Zl-1s (1 of 6 Fathom green ZL-1s in the Gibb order). Mr. Rusty Symmes restored it from a race car back to it's original form. The car now has 8,130 miles on the odometer."
Mark found out about the car at the Supercar Reunion, as he was joking around with some guys about his next car being a ZL-1. Well, sure enough, someone new a guy, who new a guy, who had one for sale. Mark's friend, Phil, tracked the owner down, and the two of them went to look at it. Three offers were made (by Mark) on the ZL-1, and Mark even went as far as to sell 2 of his Corvettes, before the owner finally came down to a figure Mark could agree on. When Mark's wife went to the bank to get the cashier's check, they thought the Hassett's were buying a house!
Mark has only driven the car twice, and he says he still gets nervous behind the wheel. But, Mark assures us the power is there...FOR SURE! If you would be interested in seeing this car in person, then make a trip to the 2000 Supercar Reunion in Springfield, MO. Then you can experience the true performance of a ZL-1...IN PERSON!!!!
(Written by: sYc and Mark Hassett)
(sYc-special thanks to Mark for the pictures and info)
Return to the Supercar Registry