August 2000 Feature car:
Rayburn Pennington's 1973 Motion Corvette
"The Manta Ray"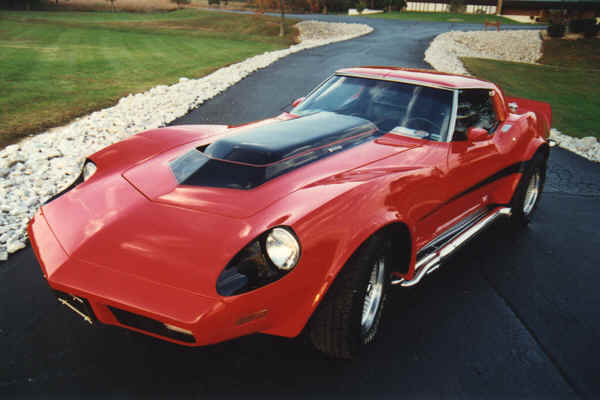 Specs:

Engine:
350
Motion engine additions:
Headers, side pipes, "Dyno Tune", along with dress up items
Transmission:
turbo 350 automatic
Motion body additions:
Tons of fiberglass work, boat tail rear, hood, nose piece, flares.
Interior color:
Black vinyl w/ bucket seats
Exterior color:
Red
---
If you are one of people who reads anything and everything ever printed on the rare dealer cars, or you lived during the "hay-day" of dealer built muscle, or if you attended either of the past "Supercar Reunions", then you are probably already familiar with this car.
This beautiful 1973 Corvette, owned by Rayburn Pennington, was built the second week of November, 1972, and shortly after taking delivery from GM, Motion Performance began working it's magic on this car. The finished product shares only a slight resemblance with it's "factory" cousins, as the transformation into the "Manta Ray" trim uses the stock Corvette only as a starting point.
The body received a host of Motion fiberglass: hood, nose pieces, front headlamps, wheel flairs, a taller rear spoiler, a "boat tail" rear end, and a changed back glass. It also received the easily recognized Motion stripe. The engine received the usual dress up items (valve covers, air cleaner, etc.), along with some subtle performance aids, such as headers, sidepipes, and the usual "Motion Dyno Tune". The "Manta Ray" was also treated to a custom interior, like a custom dash, upholstery, instruments, etc.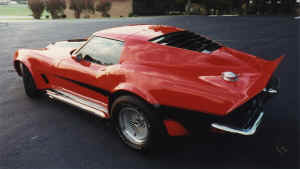 As usual, this car has a story. After Joel Rosen added his final touches to the car, it spent some time in Dyersburg, TN, then slowly made it's way farther west and closer to Rayburn's home town of Poplar Bluff, MO. The car stopped in Mauldin, MO, for a while, only before ending up on a used car lot in Poplar Bluff. In 1988, Rayburn found the car, on the lot, and instantly fell in love. He enjoyed the car as it was for 6 years, until 1994, when he decided to give the car what it deserved, as he treated it to a frame-off restoration, courtesy of the very body shop Rayburn owns/operates!
Once again, Rayburn is planning on attending the Supercar Reunion, and believe me, if you attend, you WILL NOT WANT TO MISS THIS CAR! Not that it is possible to miss it, with it's bright red paint, chrome sidepipes, and classic Motion look. It is definitely worth the trip to see this car, as it is truly stunning.
(Written by: sYc and Rayburn Pennington)
(sYc-special thanks to Rayburn for the pictures and info)