December 2000 Feature Car:
Dominic Blasco's 1969 COPO Camaro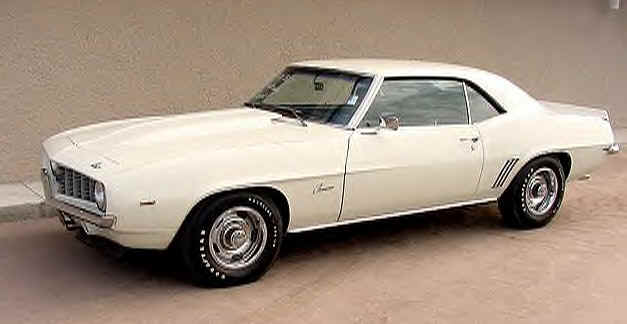 Specs:

COPO:
#9561 Hi-Performance unit
Engine:
L-72 427
Horsepower (factory):
425
Carb:
Holley 780 cfm
Transmission:
M-21 4 speed
Rear-end:
4.56 posi
Exterior color:
White
Interior color:
Blue
---
At first glance, this might look like just another Camaro. Plain-Jane, with Rally wheels and a cowl hood. The white paint even screams six cylinder. But then, you stop and think, and remember the saying..."you can't always judge a book by it's cover". Maybe this is one of those times.
So, you take a closer look...yep, that's a big block. It's even a 427! Fooled once again! This car is one of the few Camaros that left GM with the 9561 COPO option, which was nothing less than the legendary L-72 427/425. It features not only a potent big block, but a "row your own" 4-speed, and racer friendly 4.56 gears out back. Along with the performance options, this Camaro also boasts a sports-style steering wheel.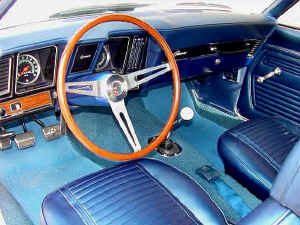 This Camaro started it's journey in the Norwood, OH, assembly plant, then made it's way to Brooks Chevrolet, in Millen, GA. It's here where it's true purpose is realized. The car was raced by Lamar Walden, thus proving what the original intentions were for these cars back in '69! Then, after many years of hard racing, Lamar decided it was only fitting to "pay back" the Camaro for it's years of faithful service, so it was treated to a full blown restoration.
This car has been documented by The COPO Connection, and is currently in the possession of Dominic Blasco. You can bet, though, that you had better watch out for that one car that just looks "too plain", as Dominic and his COPO may make a believer out of you!
(Written by: sYc & Dominic Blasco)
(sYc-special thanks to Dominic for the pictures and info)