July 2000 Feature car:
Mike Riley's 1969 Berger Camaro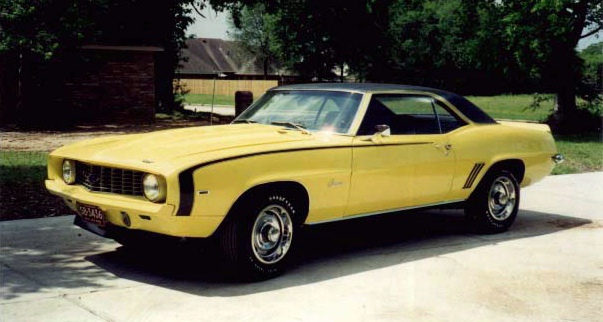 Specs:

Engine (factory):
L-72 427
Horsepower (factory):
425
Transmission:
4-speed (M-21)
Rear end:
4.10 HD posi (coded "BE")
COPO 9561 option:
427/425hp engine, 4-core radiator (curved neck), dual exhaust, heavy duty suspension, cowl hood, power front disc brakes
COPO 9737 option:
E70x15 RWL Goodyear Widetread GT tires, 15x7 rally wheels, 13/16" HD sway bar, 140 MPH speedometer
Interior color:
Black vinyl w/ bucket seats
Exterior color:
Daytona Yellow w/ black vinyl top
---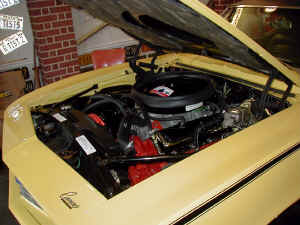 Berger Chevrolet, a performance "hot-bed" of the '60s & '70s, is now probably as famous as it used to be. With cars ike this beautiful COPO Camaro sporting the "by Berger" emblem and "Prescribed Performance" stickers, which draw major attention, how could the legend die?
This car, which spent nearly it's entire life around Grand Rapids, was found sitting in a storage shed, after many years of the usual abuse most of these cars were intended for (that intended abuse would be "drag racing" for all you non-gearheads!). It's hard to imagine anyone over-looking this car all these years, with it's bright yellow paint and classic Camaro lines screaming "look at me!". But, as fate would have it, Mike Riley found this car sitting, in tact, with the ORIGINAL DRIVETRAIN! So, Mike bought the car, and gave this car the treatment that it had deserved all those years. He treated it to a full ground up restoration, and returned the car back to 100% stock condition, being careful to make sure all the date codes and part numbers matched.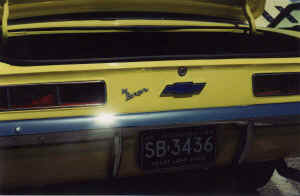 The car came with all the right options that any good street racer would ever need...the COPO 9561 option (which was the L-72, HD radiator, dual exhaust, HD suspension, cowl hood, and power front discs), and the COPO 9737 option (also known as the Sports Car Conversion option, this consisted of E70 tires, 15x7 rally wheels, HD 13/16" swaybar, and 140 MPH speedometer). The only other option on this car was the vinyl roof, but that only added to the image. The real options were the COPO options!
So, do you need further proof that Mike is a Berger fanatic? Well, Berger is celebrating their 75th anniversary this year, and to commemorate this occasion, Berger produced a limited number of 75th Anniversary 2000 Berger Camaros. When Mike heard this, he called up Berger and ordered one of these "soon to be collectibles".

But, they only came in 3 colors, so Mike made some special arrangements to get his painted, well, what else, DAYTONA YELLOW! Now Mike owns not 1, but 2, collectible Berger Camaros, that can easily hold their own on the street...if the need arises! If you are wanting to see this rare car, then check out this year's Supercar Reunion! Mike is planning on attending the 2000 Reunion, and from what I hear, this car is WORTH SEEING!
(Written by: sYc and Mike Riley)
(sYc-special thanks to Mike for the pictures and info)