June 2000 Feature car:
Rich Bernat's 1969 Baldwin-Motion Biscayne
"Street Racer Special"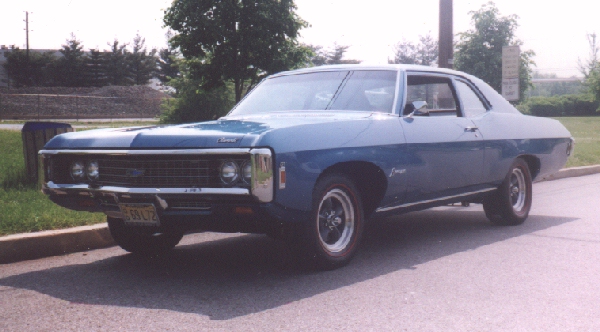 Specs:

Engine (factory):
L-72 427
Horsepower (factory):
425
Horsepower (Motion):
450
Horsepower (actual):
490+
Transmission:
Muncie M-22 HD w/ Sheifer clutch, flywheel, disc & scattershield & Hurst Competition-Plus shifter
Rear end:
4.56 posi w/ special ladder type traction bars & special HD air lifts
Ignition:
Mallory/Motion system w/ CD unit & high RPM shut off
Motion "extras":
car raised at all 4 points, street/strip shock package, headers, Inglewood extra wide tires, complete Sun guage package, dual electric fuel pump, front bumper mounted tow tabs, Hurst line lock
Interior color:
Black vinyl w/ bench seat
Exterior color:
Le Mans blue
1/4 mile ET:
11.86 @ 113 (7" slicks & open headers)
---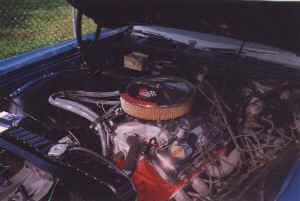 Picture this...it's 1969, and you want the ULTIMATE sleeper. Plus, it just so happens you live on the east coast, and have heard good things about a certain "Motion Performance". So, you walk into Motion and order the "Street Racer Special". Now, here is what happened: Baldwin Chevrolet would order up an SS Biscayne with the already potent L-72, and a super tough M-22 and 4.56 posi rear end. Then, Baldwin would send it over to Motion Performance, and they would add all the usual equipment that any competent "street racer" would need.

Now, flash forward to the mid 1980's. Rich Bernat, already the owner of a potent Motion "Phase III" Nova, is putting his Nova thru it's usual racing routine, and he hear's of this Motion Biscayne. Not knowing of such a creature, Rich did a little research and discovered just how rare this particular Biscayne is. In 1969, only 546 buyers opted for the L-72 in the big car line, and only 77 of those were mated to an M-22 4-speed. Of those 77, only 6 were in two door Biscaynes. As far as how many of these Biscaynes got the "Street Racer Special", that is unknown at this time. Currently, the car has been restored to it's original condition, and only shows 28,000 miles on the odometer.
(Written by: sYc and Rich Bernat)
(sYc-special thanks to Rich for the pictures and info)
Return to the Supercar Registry