May 2000 Feature car:
Brad Fanshaw's 1971 Baldwin Motion Vega (Phase III)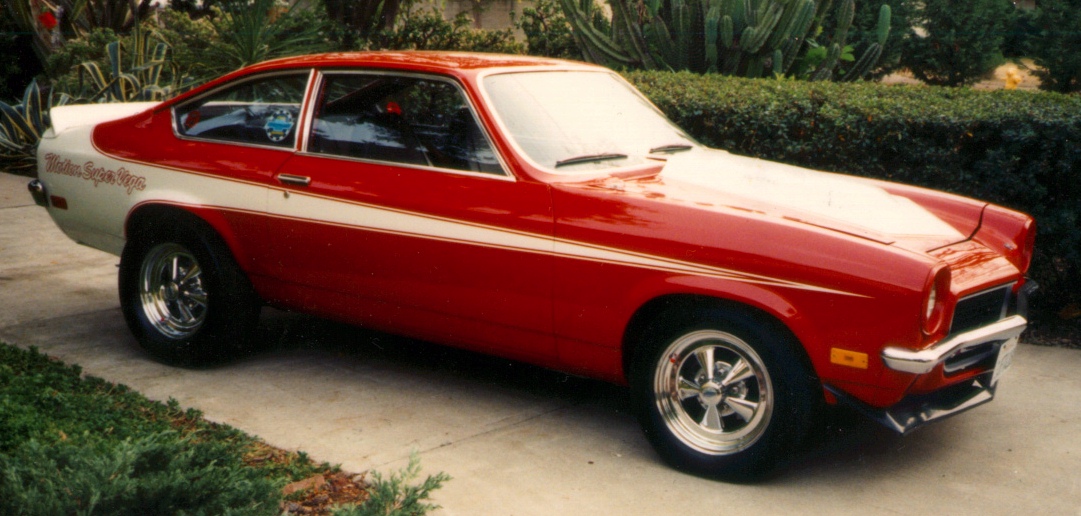 Specs:

Engine:
LT1 350 Engine
Horsepower (factory):
370
Horsepower (Motion):
425+
Carb:
Holley 850 "double pumper"
Intake:
Edelbrock TM-1 intake
Cam:
Motion Phase III grind cam
Ignition:
Mallory distributor/Motion Control box
Exhaust:
Hooker headers w/ chambered exhaust
Transmission:
B&M Turbo 400 Transmission
Rear-end:
Narrowed 12 bolt w/ET finned aluminum cover w/4:56 posi
Motion "extras":
Green fiberglass flex fan, Motion Valve covers, Stellings air cleaner, Gabriel "Hi-Jacker" air shocks and no-hop bars, Wood Sport wheel, Sun Tach and gauges, Hurst Shifter, Cragar SS wheels, Motion "L-88" fiberglass hood w/ hood pins
Tires:
Ft: 15x4.5 Moroso Drag Tires
R: 15x7.5 BFG Drag Radial
Exterior color:
Red w/white Motion stripes
Interior color:
Black
1/4 mile ET:
Motion GUARANTEED 10 sec. 1/4 mile ETs with their small block Vega...or they would buy it back!
---
Like always, I was going to write up something about the feature car this month, but after reading Brad's email, and looking at the car, I thought I would let the pictures, and someone who has had lots of time with this outrageous car, tell the story. So, here it is!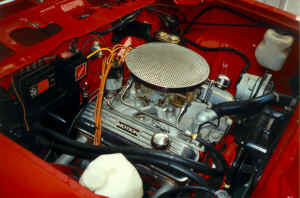 "I do drive the car on occasion and it runs great, just like a Baldwin-Motion Vega should! Driving the car is a thrill...it is loud, and it rides hard because of the no-hop bars and air shocks in the rear. The front tires are Moroso drag specials, so when I do drive it I always remember they are small and not intended to take corners. The motor requires AV gas or octane booster, the motor idles fast and really reminds me of the way it used to be with solid lifter cars and plenty of horsepower. With the manual valve body B&M transmission and the Hurst ratchet shifter you find yourself shifting constantly.
Pull up to a light and everybody looks, in California most people don't appreciate the Baldwin cars. Even some musclecar people never knew about the East Coast king of horsepower. Most comment with, "a nice V8 Vega" or "what is that?".
I still have never run the car all the way through the gears full throttle, partly the curse of living in a populated area and part for fear of hurting my prized musclecar. When I have squeezed the throttle, it is a thrill, one everyone should experience! At 10-15 mph you nail the throttle and the rear tires haze until you lift. Once, I had a crowd of my employees looking on, and since they were all car guys I decided to impress them. From the flat cement driveway of the shop I stalled the converter and nailed the gas, the car lurched forward with daylight peeking under the front tires (I was told). The entire time the old McCreary tires (On the car then) were boiling.
The car became mine after many years. In high school I had a big block Chevelle with a glide and 9" slicks (the Chevelle is now in pieces awaiting a frame-off resto). I would street race every weekend and one car always caught my eye at our local race location. The car was a black with white stripe Motion Camaro, and later another Orange with black stripe Motion Camaro started showing up. The cars just looked fast with that stripe! Years later, about 1990-91 I saw this Vega for sale at the Barrett-Jackson sale in Scottsdale. I took pictures, crawled under, over, and inside knowing I could not afford it, but wanted to see as much as I could. Then in about 1993 the car was sold to Boyd's Hot Rods and Collectibles. At the time I was President of Boyds Wheels and Hot Rods by Boyd, and having the inside knowledge it was arriving, I bought the car before it hit the sales floor."

(Written by: Brad Fanshaw-Bonneville Speed & Supply)
(sYc-special thanks to Brad for the pictures and info)