November 2000 Feature Car:
Mike Guarise's 1967 Nickey/Thomas Camaro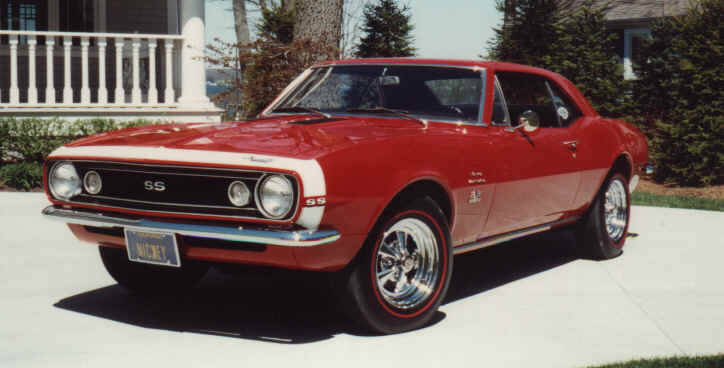 Specs:

Engine:
L-72 427
Horsepower (factory):
425
Carb:
Holley 780 cfm
Transmission:
4 speed
Rear-end:
4.10 posi
Exterior color:
Red
Interior color:
Black
1/4 mile ET:
Mid to high 12's @ over 104 mph
---
You might recognize this car from pictures on "other" sites, or you may have been lucky enough to have seen it at the 2nd Supercar Reunion. If you were one of the lucky few to have seen this car in person, then you no doubt remember just how beautiful this car is. Along with it's good looks and supercar "breeding", this car also sports an interesting history.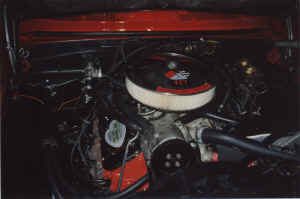 As rare as Nickey cars are, their is something that makes this car even rarer than the "average" Nickey car. This car was sold new from Bill Thomas Race Cars in Anaheim, CA, which had teamed up with Nickey Chevrolet in Chicago, IL. Together, these 2 dealers built some of the meanest cars to ever hit the streets. They were also among the first to dive head first into transplanting the potent L-72 427 into the engine bays of Chevrolets that originally came with "lesser" power plants. Both of them also were high volume dealers of speed parts, and offered their own catalogs.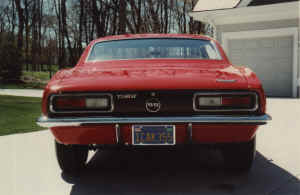 Mike bought this car from the 3rd owner (a police detective) who found the car parked on the street in 1989, very near original condition. He placed his card under the wiper, and left a note for the owner to call if interested in selling. Well, soon after, he got a call from a young lady (the daughter of the 2nd owner). He asked her if the original 396 was still in the car. Her response was "It's the original engine, but it's not a 396." A bit surprised (and curious), the detective asked her to explain. Her father had bought it from the original owner in '70, and that is was equipped with a 427 engine and that it was definitely what it came with. Now skeptical, he got enough information to do some good detective work and track down the "true" story. He was able to contact the original owner who had some more interesting information to share, although he was a bit "confused" on how Bill Thomas originally ordered the cars that were to be converted. This car was originally an L-78 396/375, as those were the engines Nickey and Thomas were selling to the hot rodders. They also had kits and "how to" articles for dropping the new "semi-hemi" into the popular 55-57 Chevies. That's how the dealers made the conversion process profitable.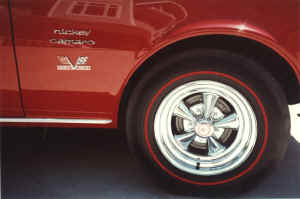 Along with the car, Mike got paperwork documenting the entire history of the car. He received letters and affidavits from the previous owners, copies of the California titles, and several letters from Bill Thomas to a previous owner about the car. Along with the paperwork, there were some other neat items in the trunk, like an original Bill Thomas Race Cars book, some original stickers, and the headers that were put on the car by none other than Mickey Thompson himself. When this car was 4 months old, a new header manufacturing business started by Mickey Thompson placed an ad in the paper stating he "needed" 396 Camaros for making a pattern. The original owner called about the ad, then took the car to M/T, where they kept the car a few days, and installed a set of headers at no charge.
Along with meeting Mickey Thompson and getting a "free" set of headers, the original owner decided to do some "testing" of his own at Lions Drag Strip. So, one Saturday afternoon, after the "tests" were over, he had posted some high 12 second ETs @ over 104 mph. Needless to say, the tests were passed with "flying" colors!
(Written by: sYc & Mike Guarise)
(sYc-special thanks to Mike for the pictures and info)