October 2000 Feature car:
Charley Lillard's 1969 ZL-1 Camaro
"the Berger car"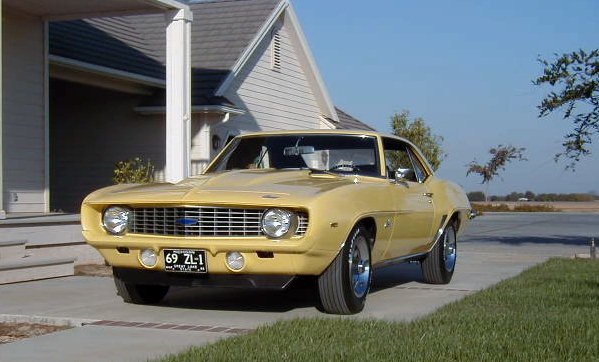 Specs:

Engine (factory):
ZL-1 427
Horsepower (factory):
430
Carb:
850cfm Holley "double pumper"
Transmission:
4-speed (M-22)
Rear end:
4.10 HD posi (coded "BE")
COPO 9560 option:
427/430hp all aluminum engine, transistorized ignition, 4-core radiator (curved neck), dual exhaust, heavy duty suspension, cowl hood, power front disc brakes
COPO 9737 option:
E70x15 RWL Goodyear Widetread GT tires, 15x7 rally wheels, 13/16" HD sway bar, 140 MPH speedometer
Interior color:
Black vinyl w/ bucket seats
Exterior color:
Daytona Yellow
---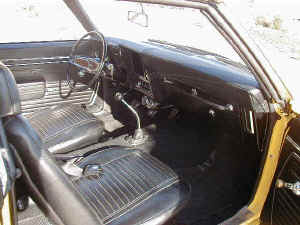 ZL-1...just say the words around anybody that's ever had a slight interest in musclecars, and chances are they know exactly what you are talking about. And, if they don't know, then they probably wouldn't understand. But, for no longer than it takes to say "ZL-1", there sure is a lot more to it.
It's just not an engine option...it's more. Take this feature car, for instance. Unlike other car manufacturers, Chevrolet insisted that there be certain goodies that go along with such a potent combination. Like power brakes, for instance. Something ZL-1 owners take for granted, but were mandatory on these street missiles. A "double pumper" carb was standard issue, ensuring that this aluminum beast never runs out of fuel, and a transistorized ignition to make sure there is plenty of fire. Along with being only 1 of 69 Camaros with the COPO 9560 engine option (all aluminum 427), this specific car was the first to come with COPO 9737 (Yenko Sports Car conversion package), which includes Rally wheels, a thicker front sway bar, a 140 mph speedometer, and other important "goodies". This car also features an endura bumper, a rear spoiler, and a AM push-button radio...pretty "plush" for a race car.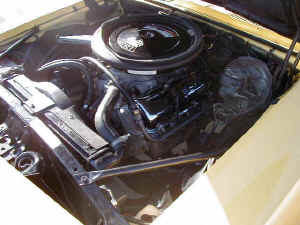 This ZL-1, #3, was also the first 4 speed ordered, and is the first "non-Gibb" ZL-1. Delivered to Berger Chevrolet in Grand Rapids, MI, this particular ZL-1 is probably the best well known of these elite cars. As if this car wasn't rare enough, this was also the car that was tested in the magazines back when this car was new, and is one of only 2 Daytona Yellow ZL-1's built. In '69, this car clicked off a 13.16 @ 110.21 in the 1/4, which is impressive considering the excessive wheel spin due to the wimpy tires.
And, like always, there is more to this story. This car still sees it's share of fast trips by the current owner, and over the years, has managed to clock only 22,970 miles on the odometer, quite a feat for a car that is over 30 years old.
(Written by: sYc and Charley Lillard)
(sYc-special thanks to Charley for the pictures and info)