September 2000 Feature car:
Mike Guarise's Motion Trans Am
"RatBird"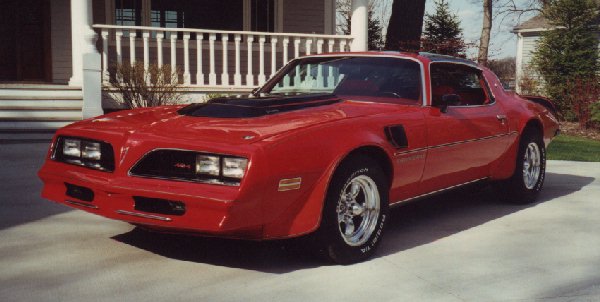 Specs:

Engine (Motion added):
LS-6 (450hp/454)
Motion engine additions:
Edelbrock intake manifold, super stock ignition, etc.
Transmission (Motion added):
Turbo 400
Rear end (Motion added):
12 bolt posi w/4.10
Interior color:
Red
Exterior color:
Red
---
Prior to getting the information from Mike on this month's feature car, I was really wanting to find something that was different...no, I mean REALLY DIFFERENT! So, when I saw what Mike had, I just had to show it off. And, I even decided to let him tell us all about in his words.
"This car was ordered new by a guy in Kirksville, MO, with the specific intention of creating what he had seen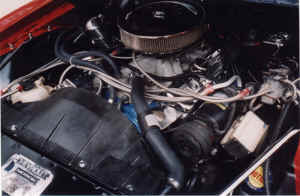 in some magazines of the time. He took delivery of the car, made arrangements with Joel Rosen, and rented a U-Haul car carrier to take it to New York. At Motion Performance, the fairly luxurious Pontiac was transformed into a Phase III type rocket. The entire Pontiac driveline was removed, and replaced with the built up LS- crate motor, turbo 400 with the usual racing trick stuff, and a Chevy 4.10 12 bolt. The three pages of original Motion shop orders indicate in detail what was needed to accomplish this feat, including the Edelbrock "Tarantula" intake, super stock ignition components, traction bars, etc. I found the car in Hemmings buried at the end of the late models in the Pontiac section. I was looking for a '73 Super Duty, but I kept going thru the later years, and I'm glad I did! The car has 28,000 original miles on it with the original paint (except for the Motion additions). This radical machine has been a fairly regular summer driver for me the last couple of years. With the great ride and "Radial Tuned Suspension" handling the T/A, and air conditioning of course, it's a blast to drive. It also has a killer '78 vintage stereo (including blown out speakers!) and a funny blue bottle in the trunk that I haven't figured out yet. Well, I haven't had the nerve to get it filled anyway."
"An interesting note is that the car came with a letter from the original owner listing the original documents he had. I wondered why no one had retrieved them, but I soon found out why. When I called him, he went over all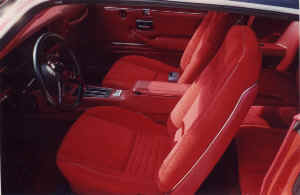 the "stuff" he had to document the car back to the ordering process (Motion papers, magazine articles, etc.) and pictures in each stage of it's life. Then he said he was willing to sell it all for only $2,500! I told him it made Joel's prices look like a bargain! He pointed out that he had a lot of things that Joel wouldn't provide, and after some friendly negotiating, I was able to reunite the documents with the car, the way it should have been all along! By the way, his justification for this strange arrangement was that some time back, he had bought an LS-6 car, and after paying for it, was offered the build sheet, etc. for an extra amount. This after the paperwork was used to seal the deal. I asked what that had to do with me, but in the end, we came to a meeting of the minds. Watch out if you ever buy a car from me, 'cuz I have to get MY money back I guess!"
(Written by: sYc and Mike Guarise)
(sYc-special thanks to Mike for the pictures and info)