April 2001 Feature Car:
Dave Belk's 1970 Yenko "Deuce" Nova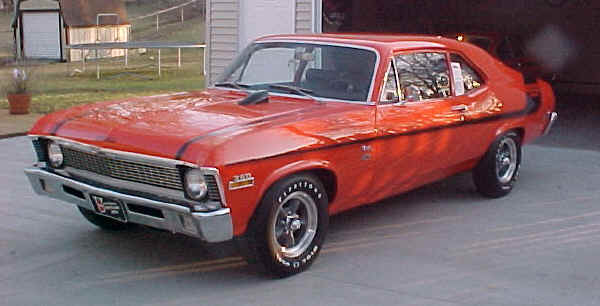 Specs:

Engine:
LT-1 (350/360hp)
Transmission:
4-speed (M-21)
Axle:
4.10 posi
GM Options:
COPO #s 9010 & 9737
Yenko Options:
optional steering wheel, stripes, hood tach
Exterior color:
Hugger Orange
Interior color:
Black
---
The Yenko 'insurance beater' was a '70 COPO 9010 & 9737 non Super Sport Nova. The basic plan was to order 125 Novas with RPO-L65, 250hp 350cid engines, M20 transmissions, 4.10 posi 12 bolts, and black, bench seat interiors. These 125 cars would be split evenly between 5 colors, Cortez Silver, Gobi Beige, Forest Green, Fathom Blue and Cranberry Red, 25 of each, and a non even split between 4speeds, a/t's, and power steering options. The performance aspects were handled by the two COPO's. COPO 9010 and 9737 replaced the L65 engine with the 360hp LT1 from the Z28 Camaro, the M20 trans with an M21, a special rear end code specific just to
the COPO Novas, and the F41 suspension package, which was a Super Sport only item.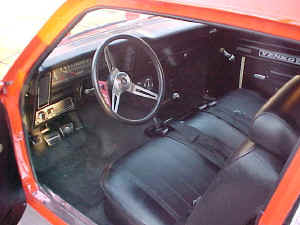 The initial demand for these cars was sufficient enough for Yenko to order a second batch of 50 cars. This time he substituted 3 new colors; Hugger Orange, Sunflower Yellow, and Citrus Green in place of Cortez Silver, Gobi Beige, and Forest Green. This new mix of 5 colors was split evenly among the order of 50, with 10 each, and again an uneven split between 4speeds, a/t's, and power steering. This second order of cars was most likely modified with Yenko specifics of stripes, wheels, hood tach, ect. by Hurst Performance in Detroit, MI.

This Hugger Orange car is one of the 10 produced, (5 of which exist today), and came with the optional, dealer installed, steering wheel. The original LT1, M21, and 12 bolt are still with this car, and it shows approximately 43k miles. This car was delivered to Marve Minneman Chev. in Youngstown, Ohio, and stayed within the original family until Dave Belk was able to purchase it a few years ago. The car went through a restoration, and then was brought up to Concours quality by the National Nostalgic Nova club. One fine car!!

(Written by: sYc & Marlin Spotts)
(sYc-special thanks to Dave & Marlin for the pictures and info)