August 2001 Feature car:
Marlin Spotts' 1970 Yenko "Deuce" Nova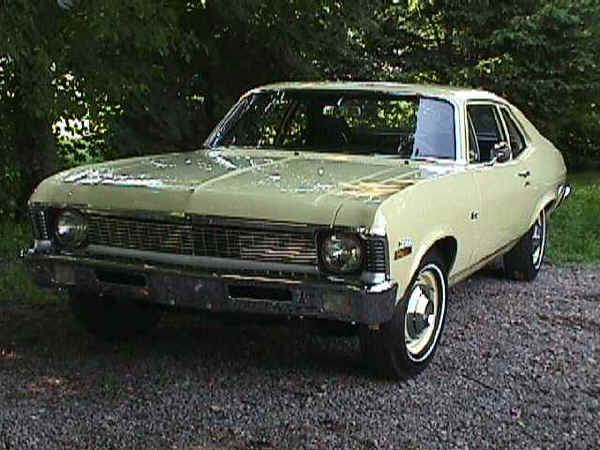 Specs:

Engine:
LT-1 (350/360hp)
Transmission:
M-21 Muncie 4-speed
Rear end:
4.10 posi
COPO 9010:
Added the Z/28's LT-1
COPO 9737:
M-21 4-speed transmission, 12 bolt posi w/ 4.10 gears, and F-41 suspension
Interior color:
Black standard
Exterior color:
Gobi Beige
---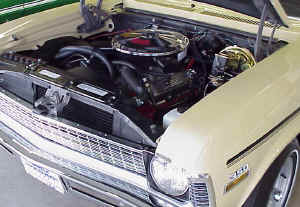 This month's feature page is more or less a "before and after", with the "before" being before the COPO Nova as it arrived Chevrolet, and the "after" being the awesome machines Don Yenko turned those nasty little COPO Novas into. And, who better to tell exactly what took place, then founder of the Yenko Deuce Registry, Marlin Spotts.
"This 1970 Yenko Nova is the 2nd of approximately 25 Gobi Beige cars produced, with 6 located to date. The car has the Z28 - LT1 from COPO #9010, 4speed M21, 12bolt Posi with 4.10 gears, and F41 suspension among other things from COPO #9737. All '70 Yenko Novas have standard black bench seat interiors with rubber mat, AM radio, and one GM option; RPO #ZJ3. Option ZJ3 is the 'Special Interior Group', and includes these items: bright; instrument cluster, pedal trim, mirror support and dome light bezel; right front door light switch, cigarette lighter, and glove compartment light. The 4speed COPO/Yenko Novas are the only Novas to come from GM with a Hurst Shifter. Rather than design a specific shifter for the Yenko Nova, Hurst Performance simply adapted the '69 GTO/Tempest - bench seat chrome arm to a '69 Camaro Z28 shifter mechanism. An oval hole was punched in the center of the floor tunnel by GM rather than off-center like Muncie shifter equipped cars. The '69 Camaro shifter boot, and holdown bezel were also used. This car has one dealer installed option, the $59.95 Custom Steering Wheel. This steering wheel was only used by GM on the Buick GSX's, but was available over the counter at any dealer.
This car was originally sold out of Nankivell Chevrolet in Indianapolis, IN to a guy who lived in Madison, IN down by the KY border. The orig. owner used the car for daily transportation, and street raced it occasionally. In 1980 the car was sold to a guy who lived just outside Louiville, KY who only drove the car for about a year. One day he decided to take it to the drag strip with open headers, traction bars and small slicks, running a 12.39 on 7 cylinders. He drove the car home, and the car was pushed out into a field where it stayed for 10 years. During these 10 years the car sunk up to the axles, with trees growing into the trunk. The field mice relocated most of the front seat cotton into the headliner and heater box, ect...... Noted Yenko collector, C. Ernst, found the car and purchased it in 1989, with the orig. drivetrain, shifter, wheels, and hood tach, keeping it in dry storage for 6 years until I purchased it. The restoration was extensive to say the least, with as much time spent on research as was spent on the car.

Before:

After:
I have yet to really get into the secondaries, but fully intend to when the opportunity arises!!"

(Written by: sYc and Marlin Spotts)
(sYc-special thanks to Marlin for the pictures and info)