December 2001 Feature car:
Peter Simpson's 1970 COPO Nova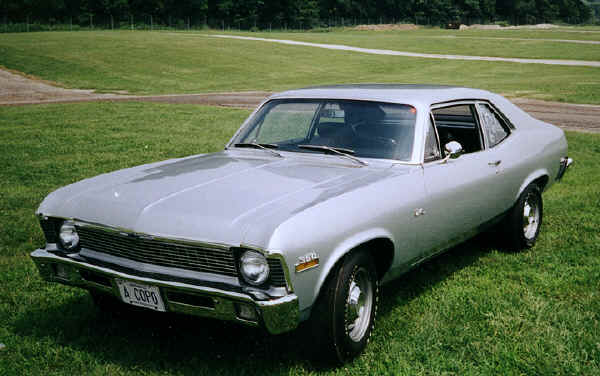 Specs:

COPO 9010:
LT-1 (350/360hp)
COPO 9737:
12 bolt posi w/ 4.10 gears, M-20 4-speed transmission, and F-41 suspension
Transmission:
M-20 (Muncie 4-speed)
Rear-end:
4.10 posi
Exterior color:
Cortez silver
Interior color:
Black standard w/bench
Options:
Rubber mat, AM radio, power disk brakes
---
Canada and winter. Two things that most people want nothing to do with. That is, unless you have something to keep you warm during those cold spells. And what better way to do that, than with a hot small block!

This particular car is out of the stable of Peter Simpson, who is pretty much "the man" when it comes to Canadian COPO cars, as this Nova sits next to 3 other northern beauties (2 Camaros and a Chevelle). This particular Nova is of the ultra-rare variety, but not only is it pretty to look at, it has more than held it's own at the drag strip as well.

Here is a short run down of the history of this car, and some of it's accomplishments, as told by Peter:

* Car is one of the two COPO Nova's sent to Canada in 1970 - both sent to Central Chev in London, the only 2 Yenko did not get. There has been rumours of other COPO Nova's sold, but no documented ones ever
been found.
* This car is documented with P-O-P, original bill of sale,GM of Canada documentation, and letter from original salseman.
* Car still has original engine and bum, original tranny is gone.


* This is the way the cars looked when dropped off a Yenko's door to be transformed into "the Deuce".
* In stock form, cars best et is 13.22 @106.27 on the E70-14 polyglas. It was entered 5 years straight in the Supercar Showdown heads up pure stock small block class and won every year - 1994 to 1998 inclusive! It was used in the Dec/Jan 1998 Killer COPO Shootout feature in Muscle Car Review and put on the cover. It was used on the cover twice of Chevy High Performance mag, with one being Dec. 1993 in a quick 8 stock Chevy shootout, where the car ran a 13.33 taking out an LS-6 Chevelle, a 68 Yenko Camaro, and a 427 Biscayne, it being the fastest on regular tires.
Peter goes on to say "The car was purchased by me in 1986, with just over 40,000 miles on car today. I really enjoy this car, as it is a blast to drive! Has to be top 5 best sleepers Chevy ever built. I love restored cars, but I love to watch and make them run. This car is special to me because, I know that no matter how big a persons collection is, he doesn't have a COPO Nova in it. He might have a Yenko Deuce, but this car is unique in every aspect. One of one in the world today!"
Now, if reading about that hot little small block wasn't enough to warm you up, then maybe this last picture will do the job: COPO Nova So, who says it's cold in Canada?!
For those of you with Canadian COPO cars, Pete also runs the Canadian COPO Registry, and he can be reached at this email address: copopete@sympatico.ca
(Written by: sYc and Peter)
(sYc-special thanks to Pete and Patrick Duffy for the pictures and info)