July 2001 Feature car:
Dave Christenholz's 1968 Yenko Camaro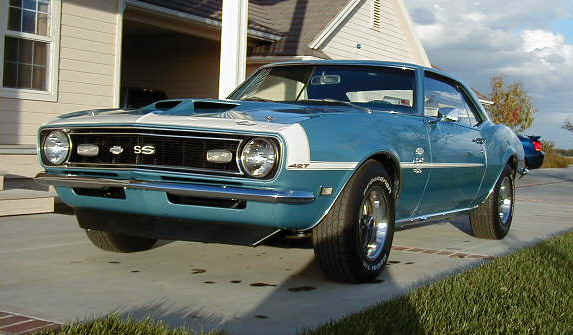 Specs:

Engine:
L-72 (427/450hp)
Transmission:
Muncie 4-speed
Rear end:
4.10 posi
COPO 9737:
Heavy duty suspension components, a 140 mph speedomoter, and a larger carb
Interior color:
Blue standard
Exterior color:
Grotto Blue
---
SURPRISE! No, it's not a surprise that I chose a '68 Yenko for this month's feature car, but it is a surprise that I chose this particular '68 Yenko...or at least a surprise to it's owner!
I had planned for a while to use this particular car as a feature for some time, as I had became a HUGE fan of Grotto Blue from the minute I saw the car. So, when it came time to do a write up for this car, I contacted who I thought was the owner (Charley Lillard), but he informed me that the car had been sold. But, Charley did say he thought the new owner, Dave Christenholz, would get a kick out of seeing it featured on the web site, but that I was not to tell him until after it was posted. Charley would then call up Dave, and tell him he saw some pictures of the car on the net, and would fill Dave in on the details later.
So, that's just what we did. I already had pictures of the car that Charley had sent me, so all I needed was to write something up, and then post it on the net...then wait and see what happened! Needless to say, Dave was surprised, as not only was he the proud owner of a '68 Camaro, but shortly after he took possession, it was featured on this web site!
So, if everyone goes out and buys a supercar, can they guarantee that it will be next month's feature car? You just might be surprised...just like Dave was!
(Written by: sYc and Charley Lillard)
(sYc-special thanks to Charley for the pictures and info)