November 2001 Feature car:
Jeff Latondress' 1969 COPO Chevelle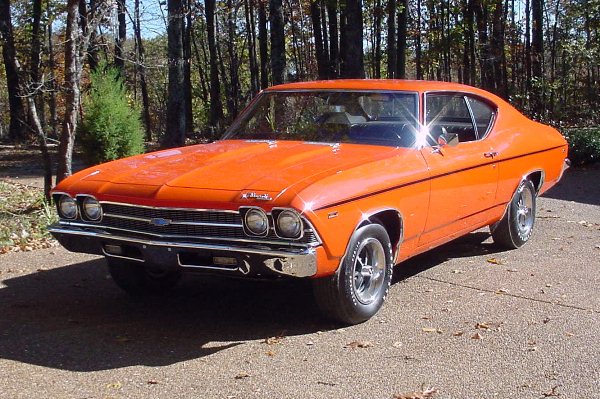 Specs:

COPO 9566BA:
L-72
Engine:
L-72 427
Horsepower (factory):
425hp
Transmission:
M40 (TH400 automatic)
Rear-end:
4.10 posi
Exterior color:
Monaco Orange
Interior color:
Black w/bench seat
---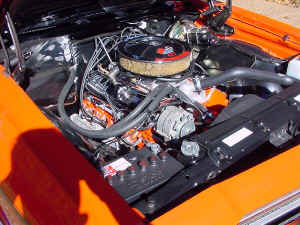 Some things you just remember. Whether it be the way something tastes, the way it feels, or even the way it looks, some things just stick in your mind. Most car guys can relate to this effect, and Jeff Latondress is no exception.
Jeff first laid eyes on this car while it was attending the NCOA show in Atlanta in 1996. It was there along with another Monaco Orange COPO Chevelle that rolled off of the line about the same time as this car, except it was a 4-speed, where this car is an automatic. Naturally, these cars were displayed together and called "The COPO Twins".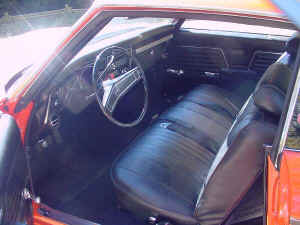 A few years went by, and Jeff's interest in COPO cars took over, and he decided he had to have one. So, he picked up the phone, and got in touch with the guy who owned the Chevelle when it attended the NCOA show in '96. Well, naturally, the car had sold. So, he tried to track down the 4-speed car, but ran into a dead end. So, back on the trail of the automatic car, Jeff managed to trace the car through 3 owners. Don't even ask about the phone bill.
Around February 2001, Jeff finished his search, and managed to close the deal on this gorgeous car. During his research, he learned that this particular Chevelle left the Baltimore, MD, plant on July 24, 1969. It then went north to Central Chevrolet-Olds in Ontario (Zone 85, dealer 782 for those of you wondering). He also found that this car had 3 owners from 1976 until 1979, and that they all lived in the Toronto area.
Since Jeff bought the car, he has attended the ACES show in Nashville, and also attended the 2001 Supercar Reunion (see it HERE). He says the car runs real strong, and he even plans to have it on the track at next year's Supercar Reunion! So, maybe old memories DON'T die at all!
(Written by: sYc and Jeff Latondress)
(sYc-special thanks to Jeff for the pictures and info)