October 2001 Feature car:
Charley Lillard's 1968 Yenko Camaro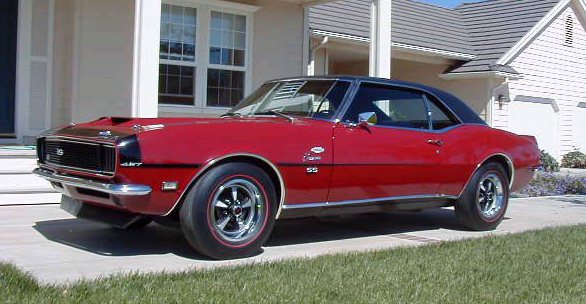 Specs:

Engine (factory):
L-78 (396/375hp)
Engine (Yenko):
L-72 (427/425hp)
Transmission:
M-21 4-speed
Rear end:
12 bolt w/4.10 posi
COPO option:
9737 (Yenko Sportscar Conversion suspension package)
Factory options:
"RS/SS" package, power steering, black vinyl top, power front disc brakes
Interior color:
Black
Exterior color:
Matador Red
---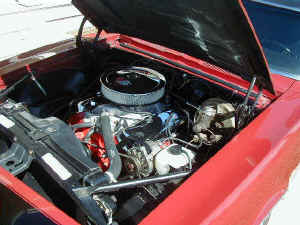 For those of you who read this part of the site regularly, you will remember that in last month's feature car article, which featured Charley's 1980 Motion Camaro, I stated that his '80 Camaro shared it's stable with some other very rare stallions. Well, here is one of those very cars!
Charley recently acquired this Garnet Red '68, which is an RS/SS, 4-speed, with power steering and power brakes. Naturally being one that always has to be a little different, Charley managed to pick up a '68 Yenko Camaro, which is rare in it's own right, but started life as an RS '68 on top of that! Yenko mainly only converted SS cars in '68, but a few RS cars managed to sneak out, and this is one of those such examples.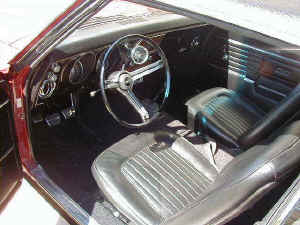 This '68 came from Chevrolet as an L-78 (396/375hp) RS/SS Camaro, and was among the first Camaros to receive the COPO 9737 package. This COPO option was new in '68, but became famous for it's use in the '69 model cars, and was the brain child of Don Yenko himself. This COPO package added beefier suspension components, a 140mph speedometer, and a larger carb. Then, Yenko added the L-72, a hood, wheels, emblems, guages...and pretty much whatever else the customer. I guess you could consider the '68s a "blending" of the 2 other Yenko Camaros. The '67s were transplant cars, with no COPO options, and the '69s were straight GM installed via the COPO pipeline, whereas the '68s are transplants with a COPO option!
(Written by: sYc and Charley Lillard)
(sYc-special thanks to Charley for the pictures and info)