April 2002 Feature car:
James Hughes' 1970 Yenko Nova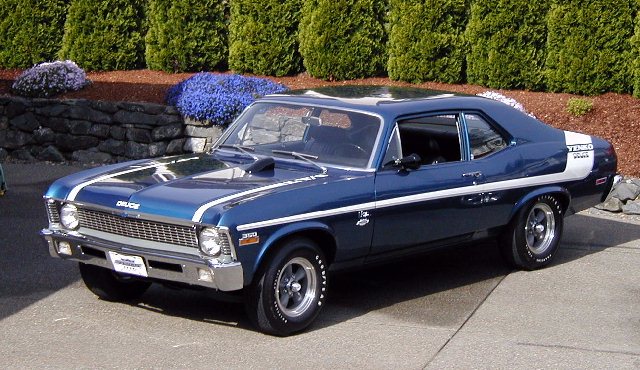 | | |
| --- | --- |
| Engine: | LT-1 (350/360hp) |
| Transmission: | M-21 Muncie 4-speed |
| Rear end: | 4.10 posi |
| COPO 9010: | Added the Z/28's LT-1 |
| COPO 9737: | M-21 4-speed transmission, 12 bolt posi w/ 4.10 gears, and F-41 suspension |
| Interior color: | Black standard |
| Exterior color: | Fathom Blue |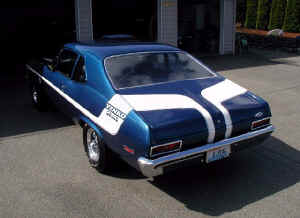 Once again, I drug my feet on the feature car for this month, and it came back to bite me! I put off doing the write-up on this AWESOME looking car until the next morning, but 2 out of town trips in 2 days resulted in no write-up to go with the pictures! There was even a thread about Jim's car soon after I posted the pictures, and much of the info was given there, and everyone wanted to know what the deal was with the write-up. So, most of you already read the details on this car on the bulletin board, but if you happened to miss the thread, then here is the low down on Jim's Deuce.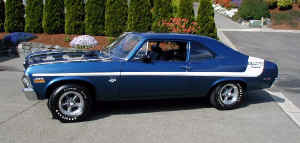 This low mileage beauty (odometer now shows 38,000+ miles) was formerly in the Otis Chandler collection, and was residing in another Deuce fanatic's garage (that "fanatic" would be Dave Belk) when Jim decided it belonged on the west Coast. The general theme of the thread, though, was that everyone loved the color combo on this car. Not only do I agree, but so did the people in charge of making those popular muscle car card sets that you see everywhere, as this was one of the cars lucky enough to be used.
(Written by: sYc and James)
(sYc-special thanks to James for the pictures and info)