August 2002 Feature car:
Bill and Madelyn Emmerich's 1968 Yenko Camaro
| | |
| --- | --- |
| Engine: | 427/410hp |
| Transmission: | 4-speed |
| Rear end: | 4.10 posi |
| Options: | Power steering, power brakes, Air Conditioning, S/W tach/guages |
| Interior color: | Black |
| Exterior color: | Corvette Bronze |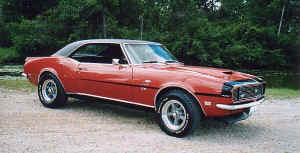 Ever get the feeling sometimes that you are working just to get back to where you started? Moving forward, to go backward, so to speak. Those of us who "work" on these old cars can relate, as most of the time, we are working to get them back to the same condition as when they were first fired. Well, this car is a good representation of such "work".
Way back in 1978, the Emmerich's purchased a well used, but very unique, piece of history. Having had the car for a couple of years, and wanting to know of it's previous history, they did a title search and found out that they were the 13th owners of the car. After talking to several of the previous owners (including the original owner), they learned that this rare beauty was indeed a Yenko car that had seen extensive race duties at one time. At one point in it's life, it was even traded for a VW dune buggy!
After learning of it's rare Yenko lineage, Bill decided to begin whipping the car back into shape. But, as he was putting the heater back in, he found the standard heater box wouldn't fit. That's when it became obvious that something was different...it had to be an air car. So, after much research, and after many visits with the original owner, they discovered it was indeed a factory air car, and is believed to be the only Yenko Camaro with factory air conditioning.
So, if the Emmerich's hadn't ended up with this car, and cared enough to inquire about the previous history of what was then a well used race car, then another ultra rare Yenko car would have been lost. Bill and Madelyn say the car is still "a work in progress", but it would be hard to call it work when you are dealing with a rare beauty like this one! Oh, it just so happens that their "work" will be on display at this year's Supercar Reunion, so be sure and check it out.
(Written by: sYc, Bill, and Madelyn)
(sYc-special thanks to Bill and Madelyn for the pictures and info)