February 2002 Feature car:
Mark Hassett's 1969 Yenko Camaro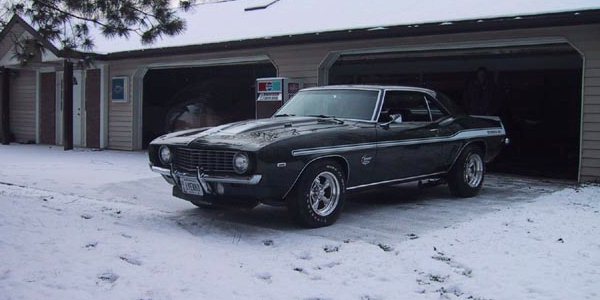 | | |
| --- | --- |
| COPO 9561 option: | 427/425hp engine, 4-core radiator (curved neck), dual exhaust, heavy duty suspension, cowl hood, power front disc brakes |
| COPO 9737 option: | E70x15 RWL Goodyear Widetread GT tires, 15x7 rally wheels, 13/16" HD sway bar, 140 MPH speedometer |
| | |
| --- | --- |
| Engine: | L-72 (427/425hp) |
| Transmission: | M-21 (Muncie 4-speed) |
| Rear-end: | 4.10 posi |
| Exterior color: | Fathom Green |
| Interior color: | Black standard |
| Options: | AM/FM radio, power disk brakes, factory tach |
For this month's feature car, I chose another car from Mark Hassett, and just like his other feature car, this car happens to be Fathom Green! But, unlike his other feature page, I'm gonna let him tell the story about how this beautiful car came to be his.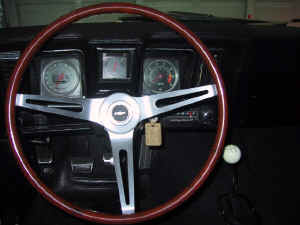 "Would you believe I found my Yenko at a local cruise-in??? Yes, after looking for about 2 years for a "Real Yenko", my friend Phil Borris and I were at a cruise-in in Eastlake, Ohio, and we were walking around looking at the cars and Phil started yelling "Yenko, Yenko"! He takes off running and asks the owner if it is a Real Yenko?? When the guy said it was, Phil made him an offer just as I was getting there. He said "Mark it's supposedly a real Yenko, see if you can buy it from the guy". I already made an offer for you. The car was owned by both a Father and Son. The father wanted to sell the car, of course for the right price, but the son said "No Way". The father told his son to take me for a ride and he wouldn't. Finally he did, and when we came back from the ride I knew I had to have the car!! My first offer was refused and they came back with a Higher $10,000 more figure. The word was spreading around the cruise-in that there was some big car deal going on and even the Hot Rodders were gathering around us. I told them that I would split the $10,000 difference in the price. They said okay but they wanted it in CASH money only. I was still uneasy about the car and if it was truly a real Yenko, so I told them they would have to bring it to my house so we (Phil and I) could inspect all the numbers. They agreed and brought the car over. I had the cash ready just in case!!! For those of you that know Phil the inspection lasted several hours!!! First thing he did was check the engine numbers. He took the valve covers off to check the numbers on the heads. He put it on jack stands to check the transmission and rear end numbers. He checked the water pump and intake. Everything he could he verified!!! During all this time I was in my back garage showing them all my other cars. When I came back and saw the Smile on Phil's face I knew it was time to "Show them the MONEY" and get them back on their way home!!! The son started to back out of the deal, but all the dad saw was the cash and said "you got yourself a car". I thank GOD the title was in the Dad's name! Looking back on this deal I wish I could find another
real
Yenko and pay what I paid then. To complete my stable I would really like a Yenko Chevelle --to go with my ZL-1 and my Yenko Camaro. Prices seem to be going thru the roof on these cars and all of us that have them are very LUCKY INDEED.
My '69 Yenko Camaro is 124379N677274 (one of the last) 5 or 6 built. Yenko sold it to Bobby Murry Chevrolet in Raleigh, N.C. It is a X-44 Car with the following Options: 4-Speed, Factory Tach, AM/FM radio, simulated wood wheel, front disc brakes, bumper guards, airlifts, tinted glass and floor mats. Yenko added Doug Thorley Headers, scatter shield and traction bars. I took off the rally wheels and the original tires and put them away. I put on polished Torque Thrust Wheels and repro tires. I have the ORIGINAL WINDOW STICKER and the price was $4,559.05 I found a
MUSCLE CAR CLASSIC MAGAZINE
when it was the cover car in April 1989, owned at that time by a Mr. Henderson."
(Written by: sYc and Mark)
(sYc-special thanks to Mark for the pictures and info)