July 2002 Feature car:
John Hoer's 1969 Yenko Camaro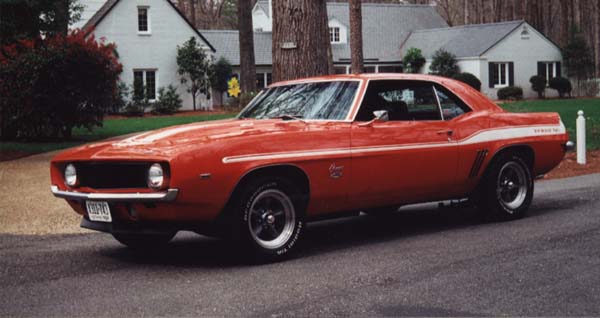 | | |
| --- | --- |
| Engine: | L-72 (427/425hp) |
| Transmission: | TH400 |
| Rear end: | 4.10 posi |
| Options: | AM radio, power steering |
| Interior color: | Black |
| Exterior color: | Hugger Orange |
It's only fitting that since the July Feature page itself was late, that the write-up should be late as. But, as they say, "better late than never", so here it is, in John's own words:
First of all, this in not a "frame-off restored car"...and not a low mileage original car...it's kinda "in between". This is currently a "Driver" that has several items that I understand never came on a Yenko Camaro. When I purchased this car in 1988 the car had Houndstooth interior, deluxe door panels, rosewood steering wheel, am/fm radio, and rear bumper guards...all of which were added to the car by the previous owner. It also had a hole in the side of the dash where the original "Stewart Warner" tach was installed at the Yenko dealership...and still had the original sending unit which was still mounted on the firewall...(I've since found the correct tach). This car originally came with an "automatic" transmission and "power steering"...the shifter was removed from the steering column and a "Hurst Dual-Gate Shifter" was installed at the Yenko dealership. When I purchased the car it had the original "BE" rear end with a 4.10 gear...and since the 427 motor and the turbo 400 transmission were not the original ones...I decided to install another 12 bolt rear end with a better "highway" gear...(keeping the original rear for later restoration). The car was painted in either 1983 or '84 and at that time the stripes were not as available as they are now...and were "painted on"...instead of being "vinyl" stripes. I replaced the rally wheels with the American "Torque-thrust" mag wheels...for that nostalgic look.
Several years ago, when John Hooper was gathering info for his book "The 1969 Camaro Reference Book" he asked if I would send him some photos to include in the book. I then sent him about 15 different photos of my car. He ended up putting a color photo (page 71) and several other photos in chapter 24 on "Yenko S/C"...which happened to be my license plate at that time.
I am looking forward to meeting other members and seeing their cars at the "York 30" Show...as I still have a lot to learn about these cars.
(Written by: sYc and John)
(sYc-special thanks to John for the pictures and info)