May 2002 Feature car:
Kevin Hand's 1969 Yenko Nova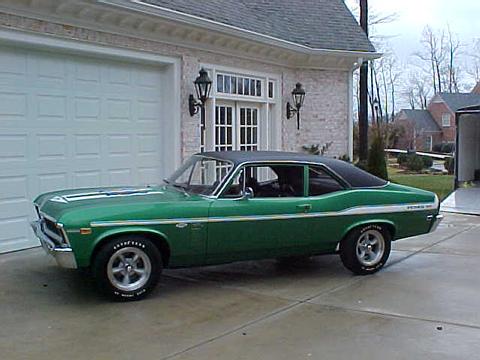 | | |
| --- | --- |
| Engine: | L-72 (427/425hp) |
| Transmission: | M-21 Muncie 4-speed |
| Rear end: | 4.10 posi |
| Options: | Vinyl top, AM radio |
| Interior color: | Black standard |
| Exterior color: | Rally Green |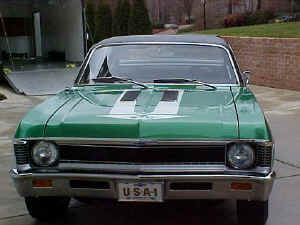 Sticking with the same theme as last month's feature car, which was a '70 Yenko Nova, we are lucky enough to take a peek at it's older, and more "muscular", sibling, a '69 Yenko Nova.
We all know that in 1970 Yenko had to find a way to "trick" the insurance companies into insuring another Yenko Nova, utilizing the new for '70 LT-1 in a light weight Nova. Well, this car is the very reason WHY he had trouble with the insurance companies! Opting for the lighter weight of the Nova, but sticking with Yenko's powerplant of choice for '69 (the L-72), this car was, and is, still considered one of the most brutal cars to ever hit the street. Don Yenko himself described the car as "a beast, almost lethal", which means a lot coming from a guy who built some of the wildest cars ever, (remember the "Mean Ones"?). No wonder everyone wants one!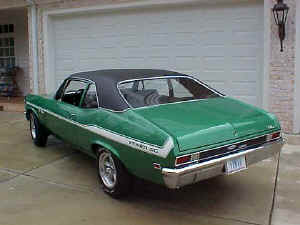 Originally, the car was sold out of V.V. Cooke Chevrolet in Louisville, KY, and this example happens to belong to Kevin Hand, after residing in the garage of Randy Miller. When Kevin visited Randy's house, he was inquiring about a couple of other cars, but when saw the Nova, he had to have it. When he told Randy of his immediate "need for speed", it startled Randy, but he had to have it. He says that of all his cars, this car is the car that gets people's attention, and is the very reason it won't be sold.
Kevin mentioned in his email that this car was very special to him, and that he was lucky to get it. Well I'd have to agree with him on both accounts! Now, if you'd like to see this truly awesome car in person, then plan to make a trip to the 2002 Supercar Reunion in Collinsville, IL, and you too can see what is arguably the meanest of the mean ones!
(Written by: sYc and Kevin)
(sYc-special thanks to Kevin for the pictures and info)