November 2002 Feature car:
Jeff Murphy's 1969 COPO Camaro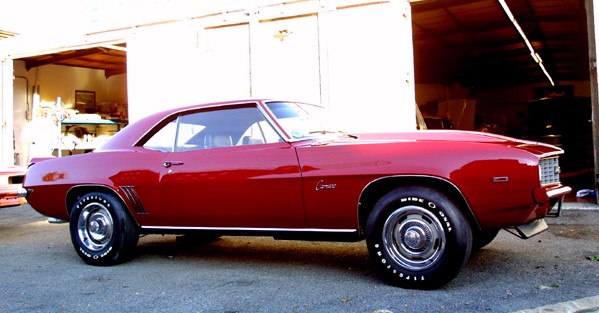 | | |
| --- | --- |
| Engine: | L-72, 427/425hp |
| Transmission: | M-20 4-speed |
| Rear end: | "BE" 4.10 posi |
| Options: | Endura front bumper bright exterior trim group (Z21), wood grain interior accents (Z23), air spoilers (D80), F70-14 raised white letter tires on 14x7 rally wheels |
| Interior color: | Standard black vinyl (711) |
| Exterior color: | Garnet Red (52) |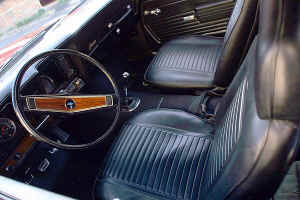 Ever wonder what people across the Atlantic Ocean, in London, England, do for fun? Would you imagine that for some people, it might not be much different than what we here in the U.S. and Canada do! Yes, England has it's share of Supercars and Musclecars, as evidenced by this beautiful example owned by Jeff Murphy. So, sit back and read a first hand account from a Supercar owner on another continent!
"The car was originally sold at Walters Chevrolet in Hebron Ohio in June 30, 1969 to an aspiring racer named Jim Cochran. One of Jim's best friends was Larry Morgan, the pro stock racer, who recollects that the dealership hauled the car to Pacemakers Dragway in Mt. Vernon, Ohio where it ran mid-12s right off the transporter. Jim continued to race the car until he sold it to his cousin in 1974, who in turn traded it in for a '75 Monte Carlo(?!). Morgan clearly understood what COPOs were all about as he tracked the car down 14 years later a few miles up the road from him in New Albany, Ohio, with only 24,442 miles on the odometer. Morgan sold the car in 1992 to Gary Holub, who had Ed Cunneen certify it as a COPO."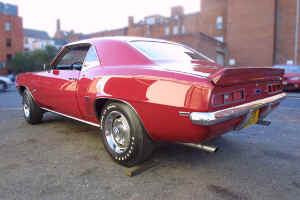 "For those of you who know Gary, you know he won't buy a car without sufficient documentation and this car has it in spades: dealer invoice, car shipper (see photo), shipment invoice, dealer prep work order, application for title, certificate of acceptance, power of attorney and the dealer envelope it all came in – pretty important stuff when you're trying to prove an M-20 COPO Camaro existed. Luckily, all the paperwork was saved by the son of the dealership's current owner, who was one of the two salesmen to deliver the car to Jim Cochran back in '69."

"Under Gary's care the car won three consecutive Gold Spinners at Chevy Vettefest during 1992/1993. The car became Carl Stuber's first COPO when he purchased it from Gary in early 1993 and it continued the string of show successes with First Place honors at Chevy Vettefest that November. Carl continued to own the car until I acquired it from him this summer, still with 24,442 miles on the odometer."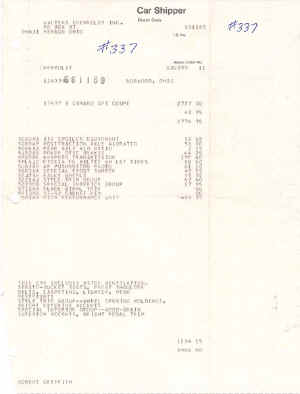 "Since then, the car has traveled a great many more miles, but they haven't shown up on the odometer, thank God! I bought the car from Carl sight unseen, had Ed update the COPO certification and had it shipped to England where I will be living for a few years. It was a tough decision, but since I had always wanted a performance Camaro, I couldn't see leaving it in storage in the US until I move back to the States.

"

"Bringing the car to England has had its issues, however. A tank of very street-illegal 110 octane leaded racing gas costs about $260 due to the high level of taxes in Europe (that's $14/gallon!! – regular premium unleaded from the pump is nearly $5/gallon). Finding someone to take loving care of the car was difficult, although I was able to find very knowledgeable, dedicated help from Rare Performance Motors, a group of guys who restore and maintain an incredible collection of very rare Mopar beauties for a UK collector (he also owned one of Reggie Jackson's ZL-1s for a while). And, while a Camaro isn't a particularly large car in the US, it is big and a bit clumsy (especially with manual steering) on overcrowded streets originally built for horses."

"Speaking of horses though, the COPO is FAR more unique here than in the States – there aren't too many lumpy, crackling 7.0 liter (as they would call it here) 11.0:1 compression drag racing machines running around the streets of London. Once I get a couple of "too long in storage" bits and pieces sorted out and a rare dry sunny day shows up, I'm going to go hunting Porsches, at least until the first corner!"

(Written by: sYc & Jeff)

(sYc-special thanks to Jeff for the pictures and info)