October 2002 Feature car:
Mark Hassett's 1968 Baldwin-Motion Camaro
"Phase III"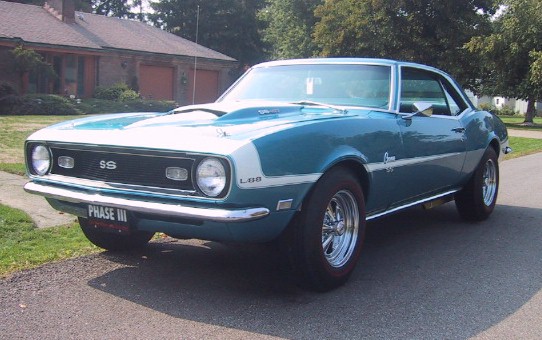 | | |
| --- | --- |
| Engine: | L-88, 427/430hp |
| Transmission: | M-22 4-speed |
| Rear end: | 4.88 posi |
| Options: | Stewart-Warner tach, speedo, & guages, 950cfm 3-barrel carb, Stinger hood, Mallory igntion w/protective boots, trunk mounted battery & traction weights |
| Interior color: | Blue vinyl |
| Exterior color: | Le Mans blue |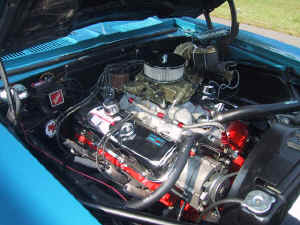 When one mentions October, some people will think of the falling leaves and the changing of the seasons, but for most of us parents, October means one thing: Halloween. For some, Halloween used to be a time to trick or treat, and Mark happened to be kind enough to do a little of both when he sent me his pictures and info. Being as I'm a sucker for anything out of the ordinary, the "treat" of his beautiful '68, with the "trick" part coming in the form of a "goblin" standing next to his latest toy, made this month's feature page a natural fit. And as interesting as the pictures are, the story is just as interesting. Here it is in Mark's own words:
"This summer while at Carlisle, I happened to be looking at parts at a Camaro vendor that Gary Volpicelli was running and Tim Lapotta happened to call Gary on his cell phone while I was standing there. Then, Gary says "Mark, it's for you". Tim started telling me about a '68 Motion he had found and asked me if I was interested. I really wanted a '69, but I told him that I was interested in the '68. About a week later, on a Sunday, I got a call from Tim and his brother. They were in Michigan looking at a '68 Camaro L-88 Motion Phase III with 10,000 miles. They asked me if I wanted it. I told him to call me back in 10 minutes (I wanted to at least tell my wife). Tim called me in 3 minutes and said "Yes" or "No" ? So, I said "yes" and to just come to Ohio for my truck and trailer and the cash to go pick it up. When they drove off with my truck, trailer, and money, my son asked "How well do you know those guys"? At the time I had no idea how rare the car was and how easy the deal was going to be. The car needed very little work, but I could not live with the BAD original paint. So I had it painted and turned the car over to Phil Borris to detail the rest of the car under one condition: it had to be ready in less than 2 months for the Reunion."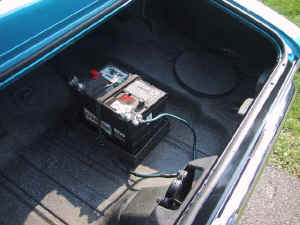 "The car is one of 2 Phase III's. I'm currently getting the aluminum heads redone to finish it. The car is an L-88 with an M-22 transmission and 4.88 gears. It has Stewart-Warner tach, speedo, and under dash guages. It has a Stinger hood and Mallory ignition . It also has a 950cfm 3-barrell. Special ignition wire boots were used to protect the plug wires. Trunk mounted battery and weights were bolted to the floor to assist traction. I have also attached a PICTURE that shows the comparison between my interests and my son's interests. The 1.8L Acura powered Honda must rely on a turbocharger, built internals, variable cam profiles, and pushing 8,500 rpm to produce 12 second time slips. The Camaro, on the other hand, simply needs a good launch to run 11's."
(Written by: sYc & Mark)
(sYc-special thanks to Mark for the pictures and info)