September 2002 Feature car:
Peter Simpson's 1969 COPO Camaro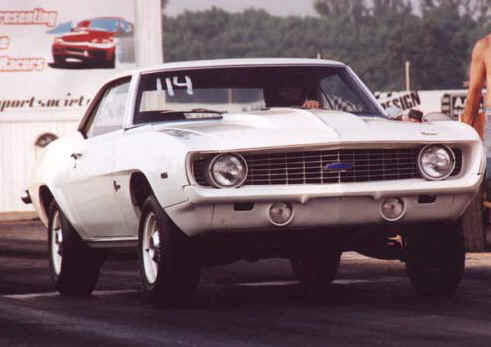 | | |
| --- | --- |
| Engine (factory): | L-72, 427/425hp |
| Engine (current): | ZL-1, 427/430hp |
| Transmission: | TH400, automatic |
| Rear end: | 4.56 posi |
| Options: | Enduro bumper, bucket seats, console, tach and gauges |
| Interior color: | Dark Blue |
| Exterior color: | Dover White |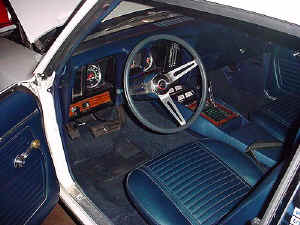 ZL-1. Certified Stock. Original COPO Camaro. Need more? Try this on for size: 12.16@113.87. Yeah, go back and read that again. That is a car, in "Certified Stock" trim no less, covering the 1/4 mile in just a shade over 12 seconds at a bit under 114 mph.
Now, before some of you go and say it's just a "driver" or it's a "racecar", let me brief you on a few things. Yes, this car has been "Certified Stock", which includes an NHRA style engine tear down, along with a complete and thorough inspection of the car, from top to bottom, front to back, by the tech inspectors and event organizers for the Pure Stock Drags. Yes, it runs 12-teens in "Certified Stock" trim, on those puny Polyglass tires. But, maybe the most telling argument for this race car is that you would never know it was a race car, unless you saw it make a pass. Make no mistake, though, after just one pass, you would assure yourself this car is the real deal, but you could also say this car maybe looks better than it runs...and that's saying a LOT.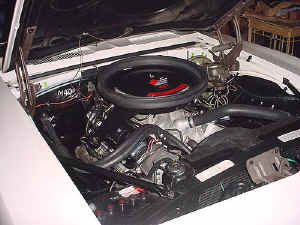 Pete stumbled across this Camaro which is an X44 car originally sold in Michigan, sitting in the 3rd owners back yard. The original owner drove it until 1971, which is when the 2nd owner, which happens to have the original engine, bought it and went racing. He then parked it in his back yard, until 2000, with a measly 17,000 miles on it. One of Pete's friends bought the car, and Pete snatched it up to use as his 1/4 mile terror, and save the wear and tear on his other COPO cars. Pete did a complete restoration in 2001, which at the time included an L-72 engine, which ran mid 12s in the 1/4, and was used as a dyno test in Muscle Car Review magazine. He then got the itch to try something in aluminum, so he swapped the L-72 for a ZL-1, and has since been the quickest car at the last 2 events the car has attended!
Do you still want more information? Well, be sure and check out the premiere issue of "Musclecar Power" magazine, as there will be an article covering the dyno test of Pete's ZL-1 and of the "Certified Stock" inspection.
(Written by: sYc & Pete)
(sYc-special thanks to Pete & Craig for the pictures and info)