April 2003 Feature car:
Jude Hettick's 1968 COPO Nova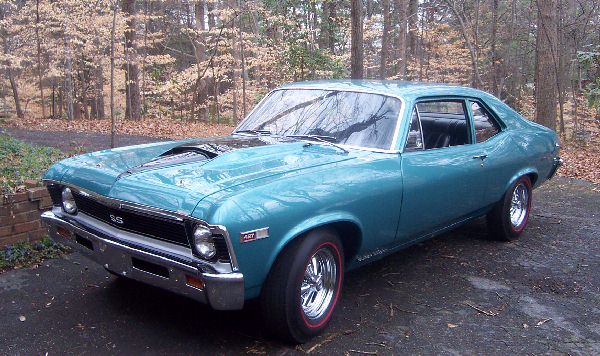 | | |
| --- | --- |
| Engine (factory): | L-78, 396/375hp |
| Engine (Harrell):: | L-72, 427/450hp |
| Transmission: | TH400 automatic |
| Rear end: | 4.10 posi |
| Interior color: | Standard black vinyl |
| Exterior color: | Tripoli Turquiose |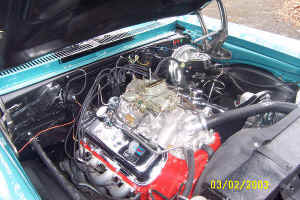 In 1968 Fred Gibb ordered 50 Novas under COPO # 9738 through Vince Piggins in order to meet NHRA Super Stock requirements. Dubbed, The 'Mystery' Nova these cars were avaliable in four Colors. Fathom Blue, Grecian Green, Matador Red, Tripoli Turquoise and were sold through a network of Courtesy Cheverolet dealers in the West and Mid West. Standard Equipment included an 396/375 HP Engine, Turbo Hydra 400 trans and a 4.10 rear.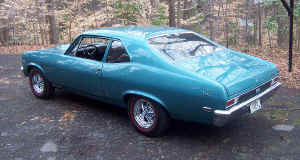 A few of these cars were shipped to Dick Harrell's Shop in Kansas City, MO for Modification including 427 conversions.

This Nova was delivered to the Gibb dealership on July 11,1968, went through the Harrell Shop where, according to COPO Connection records it recieved a 427/450 HP engine converstaion. The Nova was delivered to Courtesy Cheverolet in Los Angeles in August 21, 1968.

According Dave Libby (who worked at the Harrell Shop). Approximently, 12 Novas recieved 427 conversions. Currently, there are 3 Gibb Harrell 427 Novas known to exist, but this is the only Tripoli Turquoise COPO Nova known.
(Written by: sYc & Jude)
(sYc-special thanks to Jude for the pictures and info)