August 2003 Feature car:
Mike Rusden's 1969 Motion "Phase III" Corvette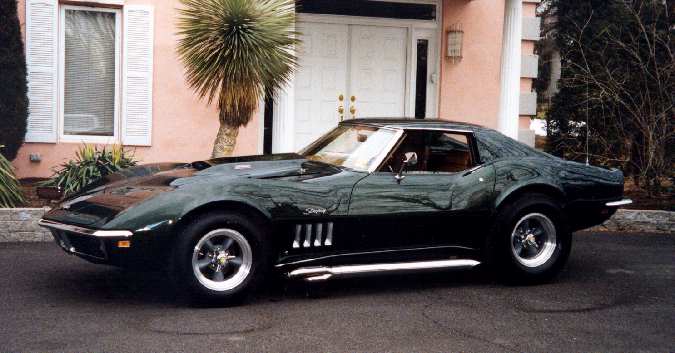 | | |
| --- | --- |
| Engine (factory): | L-71 427ci/435hp |
| Engine (Motion): | Phase III 482ci/600hp (Limited Production) |
| Transmission: | 4-speed with Hone-overdrive |
| Rear: | 5.13 posi |
| Options: | Scattershield, SEMA approved clutch, "Superbite" traction bar, Edelbrock intake, Competition shocks, Holley carb, Fly-Eye air cleaner, Finned valve covers with Motion emblems, Accel tach drive dual point distributor, Mallory rev limiter, Hurst line loc, Hurst shifter, Dupree dual electronic fuel pumps, GT gas cap, Phase III GT hood with locks, Phase III side exhaust w/headers, custom wheels |
| Exterior color: | Fathom Green |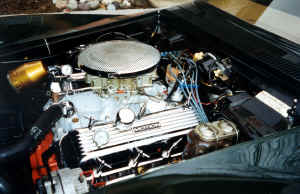 So, how do you define rare? Is a '69 L-71 Corvette rare? Sure it is, but what if it's a near mint unrestored example, still carrying it's original tank sticker? Yep, that's pretty rare, but you can do better. How about if it's a Motion Corvette, packing a full host of Phase III goodies? Close, but try again. Ok, how about if it's packing a limited production Motion prepped 454, punched out to 482ci, and pushing 600+ horsepower, with low mileage and ALL of it's original paperwork?! Now we're getting somewhere!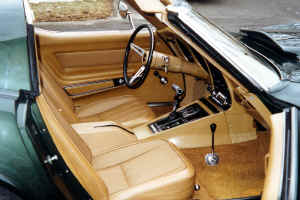 Starting with a '69 L-71 Corvette from the showroom of Reedman Chevrolet, Motion transformed this already feared "plastic fantastic" into the full tilt street bruiser you see before you. Choosing the limited production 482ci/600hp engine was only the start, because backing the 482 was a 4-speed with a Hone-overdrive, turning 5.13 gears in the rear. As if that wasn't enough, this car is a rolling display for aftermarket speed parts of it's era. From the Accel distributor to the competition shocks, or it's Edelbrock intake to it's Super-bite traction bars...this car is loaded.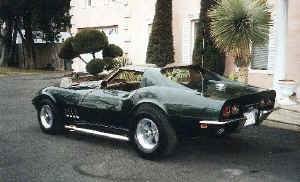 But, this story gets better. This car only shows 14,900 miles on the odometer, and is unrestored! From it's almost entirely original paint, to it's untouched interior or it's mint undercarriage, this car SCREAMS survivor. Paperwork? Oh, it's got it covered as well! Mike has the original Protect-o-plate, the 1st to 2nd owner transfer forms, the 2nd owner's title/registration, it's pre-delivery service and adjustment sheet from '69, an original inspection sticker from 1973 on the windshield, an authenticity letter from Joel Rosen himself, and the original tank sticker still resides on the tank! If you want rare, then this car's for you!
Well, if you've made it this far down the page, then you've undoubtedly looked at the pictures of this superb example of a Supercar. But, a picture is only worth 1,000 words, and this car deserves more than that. So, what do you do? Grab a calendar and a red magic marker and circle August 29-30, 2003, and make plans to be in Collinsville, IL. This car will be part of the Motion display at this year's Supercar Reunion, along with Joel Rosen himself, surrounded by the cars he created. You wouldn't want to miss this rare opportunity, would you?
(Written by: sYc & Mike)
(sYc-special thanks to Mike and Dave for the pictures and info)