December 2003 Feature car:
Charley Lillard's 1969 Yenko Camaro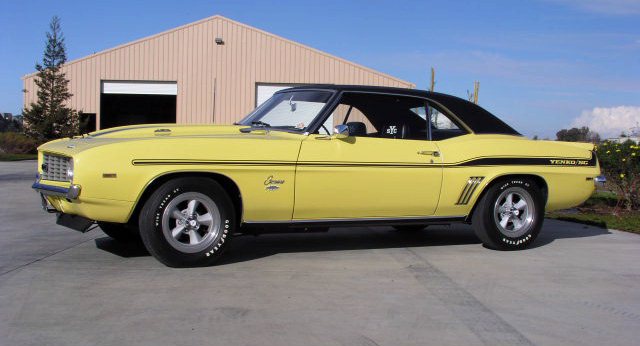 | | |
| --- | --- |
| Engine (factory): | L-72 427ci/425hp |
| Engine (Yenko installed): | L-88 427ci/500hp |
| Transmission (factory): | 4-speed |
| Transmission (Yenko installed): | Super T10 4-speed |
| Rear (factory): | 4.10 posi |
| Rear (Yenko installed): | 5.13 posi |
| Factory options: | COPO 9737 & COPO 9561 |
| Exterior color: | Daytona Yellow |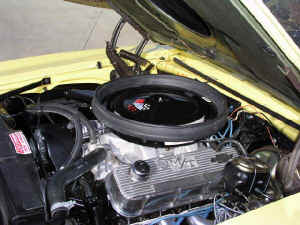 October 5, 1968: a customer walks into Yenko Chevrolet, and orders up a '69 Yenko Camaro, arguably one of the hottest factory cars of it's day. Other than the COPO 9737/9561 options, he agrees to a vinyl top, but Chevrolet accidently left it off when they built it. So, Yenko agreed to get the top added, but opted to use the '68 style vinyl top and trim. Having a killer looking car, packing a 427 and a 4-speed, you'd think the owner would be satisfied. Well, he was, but only briefly...
Somewhere around 1979, the car was taken back to Yenko Chevrolet to have it's current drivetrain installed. As if an L-88 with a Super T10 and 5.13 gears doesn't open your eyes, here's where it gets REALLY interesting! The story goes that the owner was quoted one price for the front to back race treatment, but once the work was completed the bill was higher than the original quote, so it got messy in a hurry. While the two parties argued about the price, the car stayed locked up at Yenko Chevrolet, until 1981 when the bill was "adjusted to satisfy the customer", as per the settlement with Don Yenko.
Currently, the car shows a mere 7,000 miles on the odometer and the paint is still almost entirely original, and included is a whole host of original paperwork and receipts. And if that's not enough, it's original engine still resides on an engine stand next to the car!
(Written by: sYc & Charley Lillard)
(sYc-special thanks to Charley for the pictures and info)
Return to the Supercar Registry