July 2003 Feature car:
Steve Sandlin's 1969 RS COPO Camaro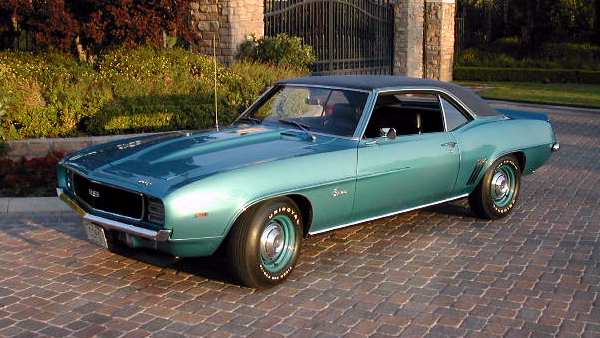 | | |
| --- | --- |
| Engine: | L-72 (427/425hp) |
| Transmission: | M-22 (4-speed) |
| Rear: | 4.10 posi |
| COPO #: | 9561 |
| Options: | Rally Sport equipment, AM/FM radio w/rear seat speaker, spoilers, fold down rear seat, power steering, console, gauge package, vinyl top |
| Exterior color: | Azure Turquoise |
| Interior color: | Black standard |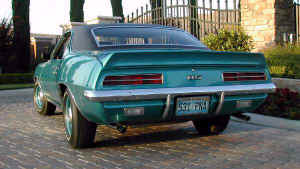 Sold originally out of Malcolm Konner Chevrolet in Paramus, New Jersey, this Camaro represents the rare of the rare. Ok, maybe "really different" would be a better way to put it! But then again, car guys LOVE different!
The first thing you notice is the Azure Turquoise paint, which is seldom found on the Camaro. Once your mind has finally processed the unique color, it dawns on you that it's also a Rally Sport. But, keep looking, and you'll notice the steel wheels, no emblems, but a big block? Yep, it's a COPO, which puts it into a league of it's own. But wait,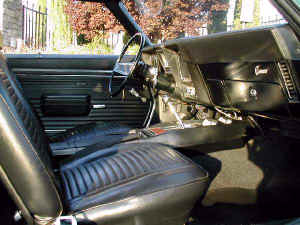 look again. Is that an AM/FM radio, with a rear seat speaker? A fold down seat?! And a console? Now you realize this car isn't just in a league of it's own, it's in it's own orbit.
So now you're asking yourself, "what else could this car have that could raise the bar just one more notch"? Then it dawns on you: paperwork. And LOTS of it! Well, guess what? This car has got that, too! This car not only boasts it's original Protect-O-Plate, it's Body Broadcast sheet, and it's original dealer invoice, but also the telegrams from Chevrolet concerning the order and delivery status of this ultra-rare monster! Talk about the icing on the cake!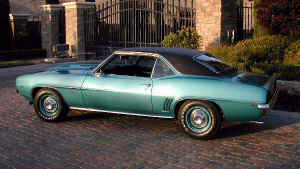 So, you tell yourself you just have to see this car in person, right? Well, then you can either plan a trip to Las Vegas, NV, o r you can hope to catch him at one of the few shows where Steve is nice enough to share this beauty with the public. But which shows? Well, it so happens that Steve is planning on having the car at this year's Supercar Reunion in Collinsville, IL! So mark your calendar for August 29-30, 2003, and dare to be different!
(Written by: sYc)
(sYc-special thanks to Steve for the pictures and info)