May 2003 Feature car:
Steve Sandlin's 1969 Baldwin-Motion Camaro
"Phase III SS427"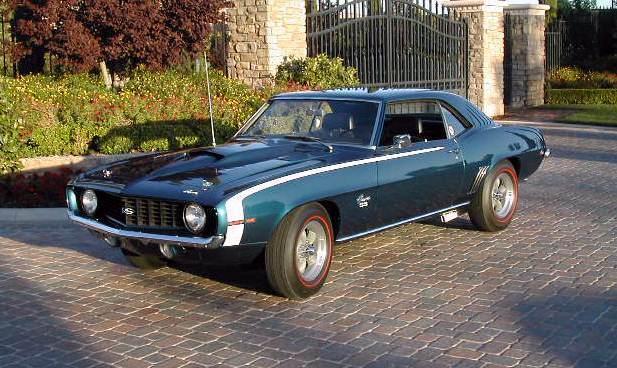 | | |
| --- | --- |
| Engine (as arrived at Baldwin Chevrolet): | L-78 (396/375hp) |
| Engine (as it was deliver from Motion):: | Phase III (427/500hp) |
| Transmission: | TH400 automatic |
| Rear end: | 3.55 posi |
| Interior color: | Standard black vinyl |
| Exterior color: | Dusk blue |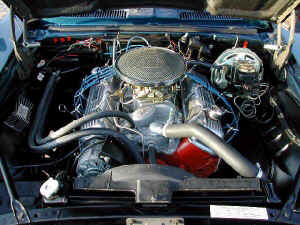 Ever noticed how there often times 2 distinct personalities in the musclecar hobby? On one end, you've got the guys who go after the bare bones cars. You know, the less options the better: manual steering, manual brakes, vinyl mat, and all the deletes (radio, heater, etc.) that you could get...the "less is more" theory. But, on the other end of the spectrum you've got the "options guys": throw in all the power accessories, all the accessory lights, the top of the line carpet, seats, and trim, and keep checking boxes until you run out of ink...then switch pens and check some more. Two very different approaches to the same hobby. Oddly, this car follows BOTH theories, except with a performance "twist".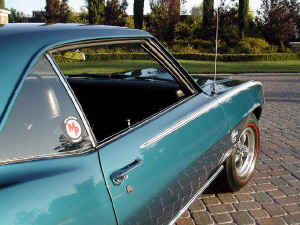 Ordered in October of 1969, this car didn't make it into the hands of it's original owner, a gentleman from Connecticut, until February of 1970! Why the wait, you ask? Well, this car literally had every speed option imaginable added to it, and it simply took that darn long to bolt all that stuff up! The option list reads like a racers wish book from back in the day: "Superbite" shocks, "ET" traction bars, "Inglewood" wheels, "Sun Super" tach, "Mr. Gasket" air cleaner, "Mallory" coil...throw in an "SS" here and a "Phase III" there, and the list is virtually endless.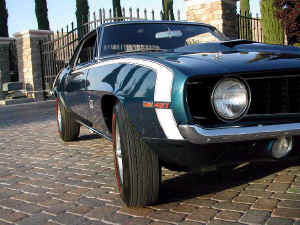 Starting life as your "standard" SS396, it rolled out of the facotry with a TH400 tranny and an L-78. But then the car made the trek from Baldwin Chevrolet over to Motion Performance, and it was transformed into the street terror you see before you. The Phase III treatment gave you everything you would need to gain the title as "the car to beat".
Today, the car no longer has to endure the harsh weather of the East coast, but resides in the much "friendlier" climate of Nevada. But, don't even think for a second that this car has lost any of it's edge...it still has all the "goods" it left Motion Performance with way back in 1970, and loads of paperwork to prove it.
(Written by: sYc & Steve)
(sYc-special thanks to Steve for the pictures and info)