November 2003 Feature car:
Matt Murphy's 1968 COPO Nova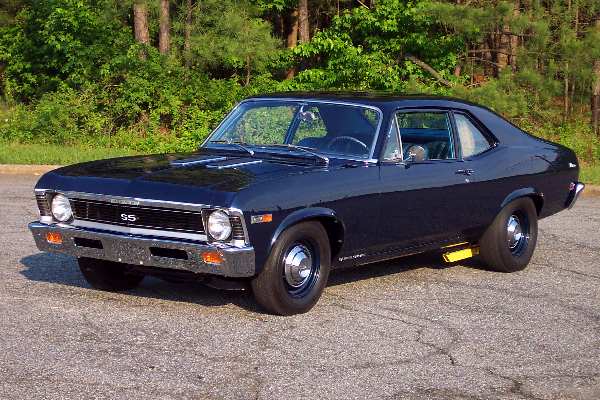 | | |
| --- | --- |
| Engine (factory): | L-78 396ci/375hp |
| Transmission: | TH400 automatic |
| Rear: | 4.10 posi |
| Factory options: | COPO 9738 |
| Exterior color: | Fathom Blue |
Here's the goods, in Matt's own words...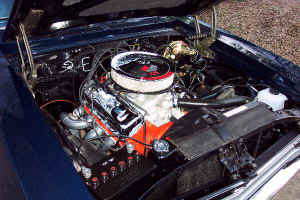 "Some info on the car . . . It is the last of the 50 by VIN. And it has 16,396 miles on it. As far as I have been told, it was bought by a gentleman that had one leg and was looking for an automatic car to drag race, and this was the ultimate for him in 1968. The car was sold on 10/23/68 to John Bridgewater in Hopkins, MO. It had a tow bar on the front end and was pulled to and from the drag strips all around the midwest. To date, from what I have been told, it has never had a tag on it to be street driven. It was restored to its 1968 drag racing days with a fresh paint job and some under hood detailing. Year One helped with the restoration by supplying any parts needed, and Bill Garren of Atlanta, GA did the paint and restoration work."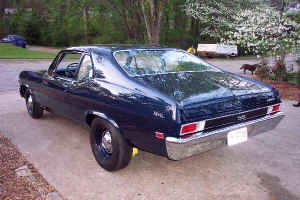 "The car still has the original Mickey Thompson (dated 1968) Cheater slicks on it. The car has a set of Hooker headers and no exhaust. It has an electric fuel pump in the trunk and a cool can under the hood (too far rusted to leave after the detailing and paint). The original traction bars in yellow were repainted as well and replaced. All of the sheet metal is original and the engine, trans and rear end is all original and never been rebuilt or taken apart as far as we can tell. The exterior Fathom Blue paint was the most common color of the 50 COPO Novas. This car also has light blue bucket seats, with most of the interior being original. The Experimental Turbo 400 is a dream to drive and the 375HP / 396 engine is a handful for the 1968 suspension setup."
"I have the dealer (Fred Gibb) inspection sheet, Protect-O-Plate info, Letter from Fred Gibb before he died mentioning all the info on these Novas and this car being number 50 of 50, letter from Chevy to NHRA regarding these 50 Novas for compitition, and more."
(Written by: Matt Murphy)
(sYc-special thanks to Matt for the pictures and info)
Return to the Supercar Registry