September 2003 Feature car:
Mark Hassett's 1969 Yenko Camaro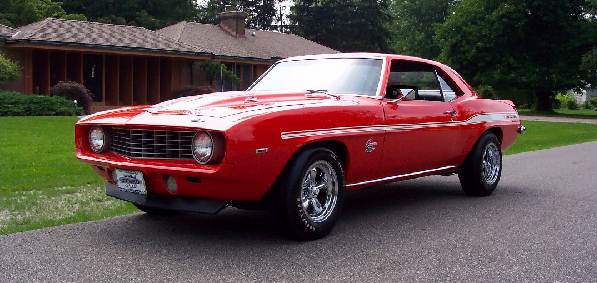 | | |
| --- | --- |
| Engine (factory): | L-72 427ci/425hp |
| Transmission: | M-21 4-speed |
| Rear: | 4.10 posi |
| Factory options: | Endura bumper, power steering |
| Exterior color: | Hugger Orange |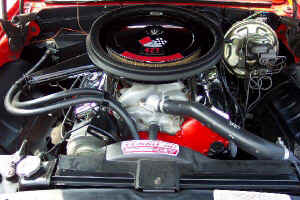 Ok, time to fess up. As most of you know, I was late getting the September page up, and didn't get the write-up on until just now, some 2 months later. I had it in hand, but put it off for a day, which turned into a week, and it snow balled from there. Procrastination at it's best, or worst, depending on how you look at it. What's bad is, this could quite possibly be my favorite color combo of any of the Yenko Camaros, as it's hard enough to argue with the Hugger Orange and white stripe combo, but throw in the endura bumper and it just about seals the deal. Anyway, without further ado, here's the scoop on Mark's Camaro: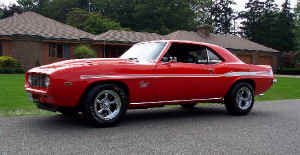 "I found this Yenko for sale on your web site last winter. I decided to buy it after wasting a year trying to buy Yenko Chevelles. I dont regret buying another Yenko Camaro. This car was part of Otis Chandlers collection, later Kevin Sudam's collection. Options include; Endura bumper, power steering, and M-21 4-spd. The car has 38,000 original miles and does have the original engine. I added the chrome Torque Thrust wheels. I drive both my Yenko's... a little bit. Went to a local cruise-in. The most asked question was "is it real". The car was sold new at Stauffer Chevy in Scranton, Pa. I think they sold about 10 1969 Yenko Camaro's."
(Written by: sYc & Mark)
(sYc-special thanks to Mark for the pictures and info)