April 2004 Feature car:
Joe Barr's 1970 Yenko "Deuce" Nova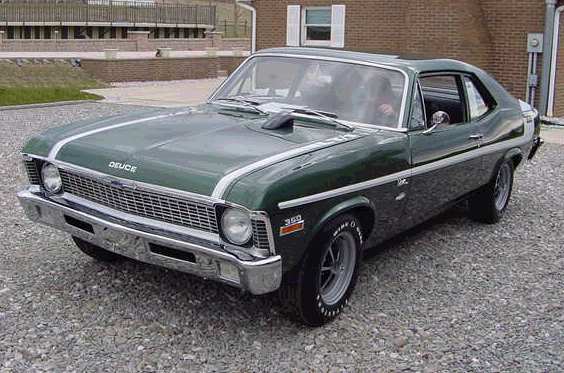 | | |
| --- | --- |
| Engine: | LT-1 (350/360hp) |
| Transmission: | M-21 Muncie 4-speed |
| Rear: | 4.10 posi 12 bolt |
| COPO 9561: | Addition of LT-1 350 |
| COPO 9737: | M-21 4-speed transmission, 12 bolt posi w/ 4.10 gears, and F-41 suspension |
| Exterior color: | Forest Green (code 48) |
| Interior color: | Standard Black |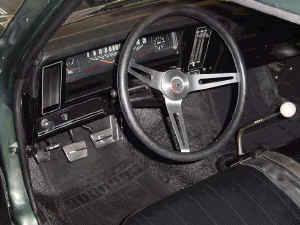 This monthís feature car is a 1970 Yenko Deuce, Yenko Stock #033. The car was located in upstate NY and purchased from a gentleman by the name of Neal Robbins. He was responsible for completely restoring the car from the ground up a little over 2 years ago. Neal has owned and restored several Deuces in the past and did quite an impressive job on the restoration of this latest one considering he did almost all of the work himself. The car has never been shown or street driven after completion of the restoration, however it was stored in less than optimal conditions which allowed many of the plated parts and detail items to quickly deteriorate. After taking delivery of the car the first thing it needed was a serious scrub down, as it had been stored uncovered in a very dusty garage for the better part of two years.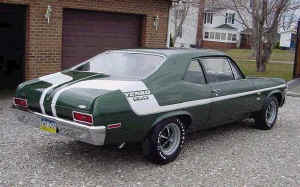 Then the exhaust manifolds had to be removed and refinished, as well as various bolts, hardware, brake components, and basically anything that would be prone to corrosion from being stored uncovered in a damp, musty garage for an extended period of time. A little time and a lot of elbow grease later and the car really stands tall. It is painted in base coat clear coat Forest Green, and features just two factory options, the interior trim group and an AM radio. Added Yenko options include the thick rimmed sport steering wheel and Dixco underdash gauges. This particular Deuce was originally sold new at Colonial Chevrolet, Norfolk VA, and was one of the first 50 Deuces converted by Yenko in 1970. it is a 4-speed car with manual steering, and is currently the only restored Lustine car found. The odometer reads just over 27,000 miles!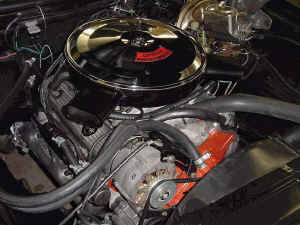 Special thanks go out to Steve Sandlin for aiding and assisting with the purchase, pickup, cleanup and delivery of this car, as well as a big "thank you" to Frank Magallon who graciously tipped me off to itís being for sale. Marlin Spotts of the Yenko Deuce Registry, and Tom and Rob Clary of the sYc were all incredibly helpful in providing information on the car that ensured itís authenticity and heritage. The car has been to the SuperCar Workshop in Latrobe, PA to have some minor detail and mechanical issues sorted out by Joe Swezey and Brian Henderson, Two of the best restorers in the business, and close personal friends. These guys have helped me out in many ways, and assisted me in getting this beast road ready in time for the summer show circuit. Future plans include driving and enjoying the car, and hopefully (if I can find a way to get it there!), bringing it to the SCR7 and showing it as the newest piece in my ever-growing Supercar memorabilia display!
(Written by: Joe Barr)
(sYc-special thanks to Joe Barr for the pictures and info)