August 2004 Feature car:
Eddie Martin's 1969 ZL-1 Camaro
"#12"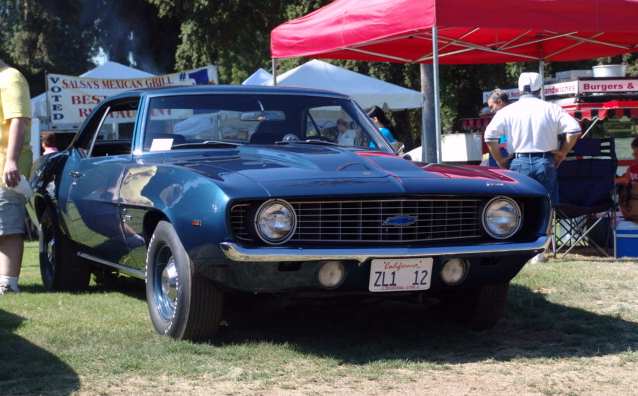 | | |
| --- | --- |
| Engine (factory): | ZL-1 (427/430hp) |
| Transmission: | M-21 4-speed |
| Rear: | 4.10 posi 12 bolt |
| Exterior color: | Dusk Blue |
| Interior color: | Standard Black |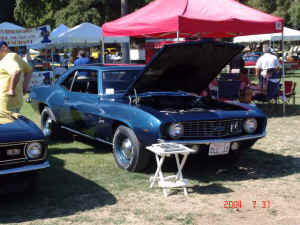 "I found the car in an ad in a magazine called "Hot Cars" in late August of 1976. I was 18 at the time, never been anywhere out of state, so I asked a brother if he would go with me to get it since he's been all over the country, so off we went all the way from Calif. to Floral Park out on Long Island, about a 6,000 mile trip in a Jeep pickup and trailer. I think we stopped every 150 miles for gas! That's what I remember the most anyway. The guy I got the car from was the original owner as far as I know."
"The car had a fresh black paint job, and when we got it home I did drive it, as it was my "go to town" car at the time. Around 1978 it stayed parked. It was not till around 1984 that I got around to restoring the car. I can't remember the year exactly but it was when Super Chevy came out with the article that listed all the VIN numbers that I finally learned it was a true ZL1, and from there I learned who knew about the cars. That's when I got to know Ed Cunneen and a big help he has been since, too. I can't thank him enough. Other then that I never had any real proof that it was a ZL1. Also, I did talk to Fred Gibb later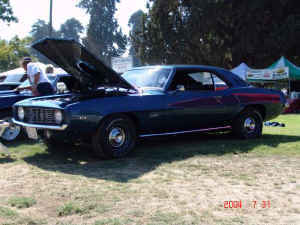 on, gave him my VIN number, and he looked in his paper work and told me exactly what the car came with. He didn't want to part with any paper work on it, which I understood. I did try and call him a few years later and talked to his wife, which was a real nice lady. She told me that he was having some health troubles soIi didn't want to bother him or her anymore about it so I left it at that. It was 2 moves, 2 kids and 17 years later before the car was what you see today, although its not all original. It's the way I got it except I painted it dusk blue which is the color it was painted originally. The car retains all the original drive train, and the block is the only thing that's not the same as its a CE block. The interior is all original, also, as is the sheet metal. Just the core support was changed."
(Written by: Eddie)
(sYc-special thanks to Eddie for the pictures and info)