January 2004 Feature car:
Chris Short's 1969 Yenko Chevelle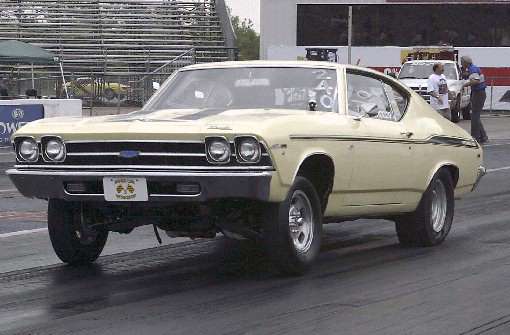 | | |
| --- | --- |
| Engine (factory): | L-72 427ci/425hp |
| Transmission (factory): | 4-speed |
| Rear (factory): | 4.10 posi |
| Factory options: | COPO 9737 & COPO 9561 |
| Exterior color: | Butternut Yellow |
| Interior color: | Standard black |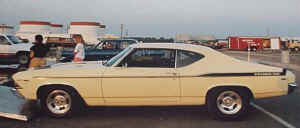 This Yenko Chevelle was bought brand new at Jack Douglass Chevrolet by Nick Morocco. The car was mildly modified over the years and most of itís 1200 miles were spent at local dragstrips where Nick would regularly turn high 11 second times with slicks! A Morocco prepared 427 aluminum head race engine resides in her now with a fresh M22. The original 427 engine sits on a stand now in Chrisí garage after being repaired and re-sleeved.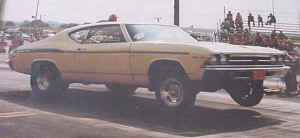 Last summer this original paint car made a trip to the Supercar Workshop for some minor detailing. The engine was gone through and all of her vintage speed parts were retained. The decision was then made to re-shoot the hood and passenger door touch up. Local talent and master painter Frank Arone handled this task beautifully. She sports her vintage Ansen wheels and slicks and looks just about the same as she did in her day! This car still has itís original Yenko window sticker along with many documents and racing pictures. If you were at SCR6 you know that Chris is not afraid to drop the hammer on this rare Chevelle. Look for Chris back again at SCR7 for more drag actionÖ..
(Written by: Brian Henderson)
(sYc-special thanks to Chris, Brian, and Jeff Murphy for the pictures and info)