March 2004 Feature car:
Tom Clary's 1969 Yenko Camaro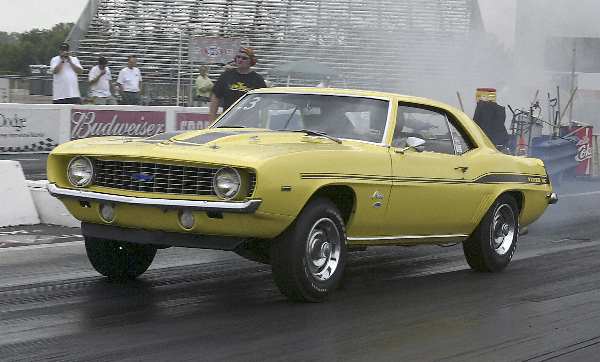 | | |
| --- | --- |
| Engine (factory): | L-72 427ci/425hp |
| Transmission (factory): | 400TH auto |
| Rear (factory): | 4.10 posi |
| Factory options: | COPO 9561 & COPO 9737 |
| Exterior color: | Daytona Yellow |
| Interior color: | Standard Black |
| Best ET/MPH to date: | 12.45@113.16 |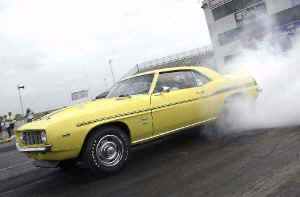 Missouri. The "Show-Me" state. Filled with people known for not taking the word of others, but insisting on seeing it happen, and more than likely trying it themselves. Ironically, that pretty much explains our "excursion" into drag racing as well!
In 1999, after having attended 2 seasons worth of car shows, and having heard about how a 427 Camaro "should" run, we decided to find out ourselves. Having ran a 13.20@103+ at the first event, we have since ran a best of 12.45@113.16, and have yet to miss the annual Pure Stock event in Stanton since 1999. Needless to say, we are now believers as to the performance potential of a 427 Camaro!
Quite possibly the neatest thing about this car, aside from the fact that it's good for 12-second ETs right out of the trailer, is that it was originally sold in Missouri, which happens to be the state where we reside. Francis Chevrolet, located in Bridgeton, Missouri, sold it's fair share of hi-performance cars back in the day, and happened to be part of the Yenko dealer network. This Camaro was bought by an 18 your old who lived in the "boot heel" of Missouri, where he dropped a valve at the 2,000 mile mark. Here's where it gets interesting. The owner found it very difficult to get the engine trouble warrantied, as Francis told him it had some "rare heads" on it and repair or replacement was gonna be "extremely expensive". The weird part is that the owner said the car was finished and returned minus the aluminum heads that he bought the car with. We've even had individuals approach us at shows that remembered a yellow Yenko Camaro in the St. Louis area just like ours, except it had aluminum heads and white stripes. Well, as luck would have it, our car is known to be the only Daytona Yellow car sold originally by Yenko with white stripes. The second owner drove it back/forth to college (SMSU) in Springfield, Missouri. The car changed hands a few more times until it showed up in the collection of Cliff Ernst, where the odometer showed a little over 25,000 miles. We purchased the car in '97, and restored the car "in house".
We fully enjoy taking the car to the track as much as possible, because people just can't comprehend a stock car running mid 12s with exhaust manifolds and skinny Polyglass tires. But, we're always glad to "show them" it can indeed!!
(Written by: sYc)
(sYc-special thanks to Tom Clary and Jeff Murphy for the pictures and info)