Now to the car I have, which I believe is car 1968-1. And this is where the going gets tough, as so few era pictures exist of this car. In my 5+ years of research, I have seen less then 10 (most seen elsewhere in this thread) that I believe are of car 1968-1. Why? That is the million-dollar question.
As of late, one of the questions being ask about my car is "who authenticated the car"? My response, it was the people closest to it in the day. But rather then take my word for it; here are a few pictures, posts and email that should collaborate what I am saying. The first five posts were copied from the "old" Dick Harrell forum.
<font color="red"> 3 General / Events &amp; Gatherings / HORAN'S ELECTRIC - FUNNY CAR NATIONALS - ST. LOUIS Sep 16th, 2004, 2:05am
Started by valerieharrell | Post by Dale Pulde
</font> <font color="blue"> Tom clary's restored Dick Harrell Camaro </font>
<font color="purple">
General / Discussion / Re: A evening to remember Jan 30th, 2004, 5:13pm
Started by Dave_Libby | Post by valerieharrell
Dave and and his beautiful wife, Norma Libby
Dick Harrell Race Team Member: Dave Libby
I hold these two dear people very close to my heart. We had 18 people in our dinner party. And our table was so large that we were seated very far away from some, which made it difficult to talk unless you got up from your seat and walked over to that person Dave made a special point to get up from the table & walk across to the other side to see Mom. He knelt down and talked to her for quite a long time. He brought some magazines to share with her. With one in particular that he gave to her, highlighting Tom clary's 1968 Camaro F/C at the 2003 Funny Car Reunion in Englishtown, NJ. Mom was near tears as Dave spoke with her and shared different things about how much it meant to him to work with Mom and Dad. ............................
.................................................. ......
Warmly, Valerie
</font>
<font color="orange"> ........... Matt's presence proved to Mom that the outlook of what Tom clary and others were doing, to be bright and positive for the future of the entire muscle car and racing industry guys who have a sincere love for Dad and what he stood for, Dad's racing endeavors. And this is what has instilled their desire to complete restoration projects and collections.
</font>
<font color="green"> 11 General / Photos / Some pictures of D-H 68 Camaro Sep 26th, 2003, 8:45pm
Started by Dave_Libby | Post by Dave_Libby
First picture is in it's original paint. Some have questioned the 68 car as ever had a black top as it is today restored by Tom clary. Here is a picture of it that way. Car only ran with this paint job for a short time.
</font>
<font color="red"> 12 General / Photos / 1968 DH Camaro Courtesy FC-Englishtown NJ 2003 Sep 21st, 2003, 10:24pm
Started by valerieharrell | Post by valerieharrell
These are pictures of the 2003 Funny Car Reunion, Englishtown, NJ., with Dale in the seat of clary's restored 1968 Dick Harrell Camaro Courtesy Funny Car.
</font>
Here is a portion of an email I received following the Funny Car Reunion held in St. Louis in late 2004.
<font color="red"> Hello Tom.... Just wanted to drop you a quick note as I have 459 emails to read. I found this photograph (below) on the Deepstage.net site. As you probably know, the car really photographs beautifully. You have done a wonderful job representing the car &amp; my father. Dale and I walked over to see you the first day we got in but you must have stepped away from the pit area. We looked the car over and picked up a few of your handouts. I really liked those and I am glad you have them with your car. ......
As always,... Val </font>
The following photos were taken at the 2nd Annual Funny car Reunion, held at Englishtown, 2003.
Valerie Harrell sitting in the car.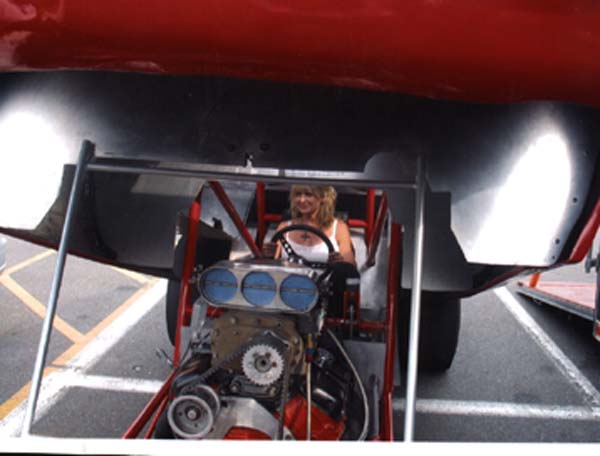 Valerie and Dale with the car.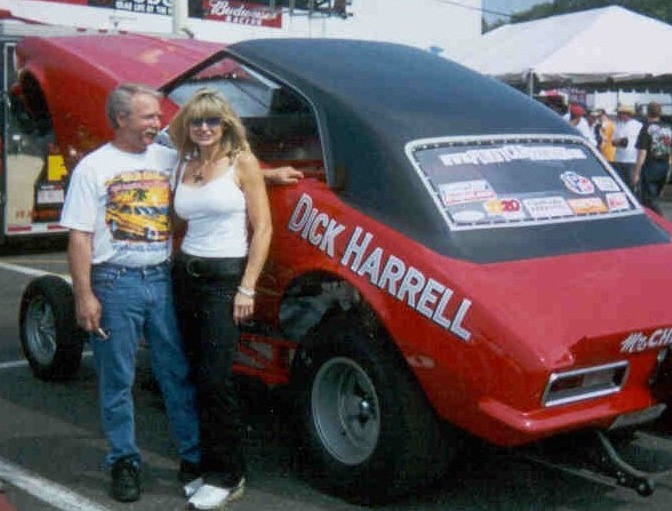 Dave Libby with the car.
Dale in the car, Val, Dave and Mo checking things out.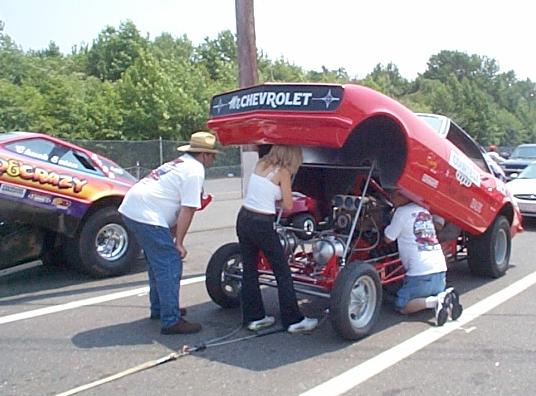 Article in Drag Racing Magazine, January 2005, by Bob McClurg from SCR7. Dave Libby and Harry Kalwie pictured. Part of the article contains an interview with Dave.