Check out these old dealer ads, advertising some of the greatest car/engine combos of all time that were destined to become collector's items!
---

The infamous Dana Chevrolet. How could you possibly turn down a car that announces it's presence like the Dana cars did. But then again, with a minimum 425 horses beneath the hood, what could you be worried about?

When Nickey Chevrolet and Bill Thomas Race Cars joined teams, they produced some of the meanest cars to ever hit the streets. As this ad shows, with Nickey in Chicago and Bill Thomas in California, pretty much everyone knew not to mess around with these cars.

Here is a Baldwin-Motion wanted poster that, in it's day, I'm sure got a lot of attention. Heck, it's still an eye grabber today.

Here is a Baldwin-Motion "Fantastic Five" ad, showcasing Joel Rosen's entire supercar lineup.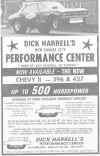 This is an ad from around late '67, advertising Dick Harrell's new "Performance Center", located in Kansas City, MO. He's also plugging the '68 Novas along with the Courtesy Chevrolet dealer network.

Dick Harrell plugging the Hurst Dual-Gate shifter found in nearly all the automatic supercars.

Here is an ad for a back seat that goes into a '63 Corvette coupe. We had a gentleman e-mail us asking if there was such a thing, and if Yenko did this kind of thing. Well, we found this ad, so I guess both answers are "YES"! If you were the one that e-mailed us before, or if you have one of these, please e-mail the Yenko Sportscar Club.

Here is an ad featuring the Yenko ZL-1 motor. Yenko bought the rights to the ZL-1 after '69 when GM gave up on it. Yenko used the same basic specs, with a few "tweaks" here and there.

These Yenko built ZL-1 engines were made to allow racers to make enormous cubic inch engines out of them. With no water jackets and a stroker crank, these engines could easily near the 600 cubic inch mark!

Here is another ad for the Yenko ZL-1 motor. These engines were definitely not for the faint of heart, as they had one purpose in mind...huge amounts of horsepower!

This is the cover of Drag Times, which covered many of the drag strips in the east and northeast region of the U.S. (notice Don Yenko's autograph at the top, which he dated June 5, 1969). This issued talked about the test of the '69 Yenko Camaro, and it's brutally quick 11.04@114.50. Also pictured are the clippings from inside.

This is an ad from 75-80 Drag-A-Way, located in Maryland, promoting a match race between Ed Hedrick (in a '69 Yenko Camaro) and Bill Stiles (in a '68 Hemi Barracuda)...who's your money on?

This is a flier from Yenko Chevrolet listing it's then current race drivers, some of the services offered by Yenko, and a couple of vehicle combinations.

This is a Yenko Chevrolet ad that was taken out of the paper, which lists what were probably the larger part of Yenko's business, the everyday cars. Remember when air conditioning was a luxury?

This is the ever popular "Meet the Mean Ones" ad which lists the dealers in the Yenko dealer network, along with the many of the options available on the supercars for '69.