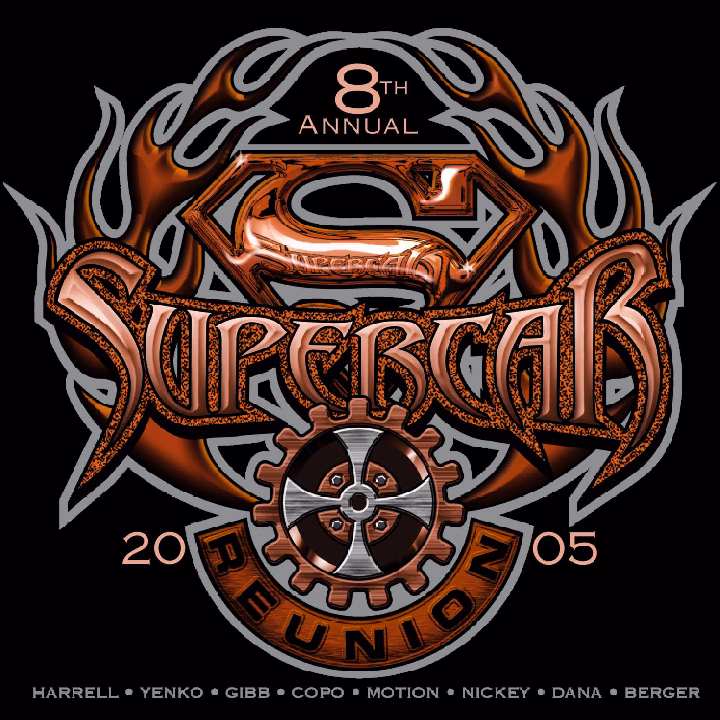 SEPTEMBER 2 & 3, 2005 - GATEWAY CENTER IN COLLINSVILLE, IL
---
Planned activities include:

Supercruise!

Memorabilia!

Drag racing will take place Friday at the...

Special guests!

Rare cars!

OPEN TO THE PUBLIC!!!!

Spectator Admission: $5 at drag strip, $5 at indoor show
---
NEED TO RESERVE BANQUET TICKETS ORADD YOUR NAME TO THE LIST?
THEN EMAILUS!!!!
SUPERCARS:
Ken Boje
1967 Gibb Camaro
Mark Hassett
1968 Baldwin-Motion Camaro
Jamie Jarvis
1968 Motion Corvette
Steve Sandlin
1968 Harrell Chevelle
Tom Clary
1968 Harrell Camaro
Ray Morrison
1968 COPO Nova
Helen Gibb
1968 COPO Nova
Thomas Kusmiesz
1968 COPO Nova
Annie Hartweg
1968 COPO Nova
David Steinberg
1969 COPO Camaro
Peter Simpson
1969 COPO Camaro
Benny Pfeiffer
1969 COPO Camaro
Steve Sandlin
1969 COPO Camaro
Stefano Bimbi
1969 COPO Camaro
Caleb Arone
1969 COPO Camaro
Joe Cheeks
1969 COPO Camaro
Fran Roberts
1969 COPO Camaro
Frank Radake
1969 Yenko Chevelle
Chris Short
1969 Yenko Chevelle
Steve Sandlin
1969 Yenko Camaro
John Deppe
1969 Yenko Camaro
Donny Hood
1969 Yenko Camaro
James Shockley
1969 Yenko Camaro
Dru Diesner
1969 Yenko Camaro
Pete Gerling
1969 Yenko Camaro
Rob Clary
1969 Yenko Camaro
Don Stowers
1969 Yenko Camaro
Barry Coughlin
1969 Yenko Camaro
David Lowe
1969 Yenko Camaro
John Platania
1969 Douglass-Yenko Camaro
Dan Cupido
1969 Yenko Nova
Jon Clary
1969 Yenko Nova
Joe Swezey
1969 DANA Nova
John Nelson
1969 Harrell Camaro
Jeff Murphy
1969 ZL1 Camaro
Barry Burnstein
1969 ZL1 Camaro
Ken Barnhart
1969 ZL1 Camaro
Phil Borris
1970 COPO Camaro
Dennis Cumby
1970 Gibb LS6 Chevelle
Steve Sandlin
1970 Harrell Camaro
Thomas Kusmiesz
1970 Yenko Nova
Marlin Spotts
1970 Yenko Nova
Ken Schoenthaler
1970 Yenko Nova
John Jensen
1970 Yenko Nova
Steve Sandlin
1970 Yenko Nova
Frank Magallon
1970 Yenko Nova
Rayburn Pennington
1973 Motion Corvette
Mike Guarise
2002 Nickey Camaro
JD Le Blanc
2002 ZL1 Camaro
Chris Short
2002 ZL1 Camaro

MEMBER'S RIDES:

Colin Comer
1965 Pontiac GTO
Colin Comer
1965 AC Cobra
Charley Lillard
1965 "Malitude"
Charley Lillard
1967 Shelby GT500
Doug Herzog
1971 LS7 Corvette
MEMORABILIA DISPLAYS:
Eric and Brandon Barr
Rick Peters
Eric
GET YOURENTRY FORMFORTHE SUPERCAR REUNION HERE!!!!
REUNION LOCATION:
The Gateway Center, located in Collinsville, IL, is a recently completed convention/meeting facility offering over 72,000 total square feet, with 30,000 square feet of column free exhibition space. With a full line of exhibition services and equipment, along with a full-service kitchen, the Gateway Center has housed national events such as the Corvair Nats and the Impala Nats, and should prove the perfect setting for the Supercar Reunion.
HOST HOTEL:

Located adjacent to the Gateway Center, the Holiday Inn in Collinsville, IL, will be our host hotel.
There is a block of rooms set aside for those attending the Supercar Reunion
For reservations: 618-345-2800 or 1-800-551-5133
HOST CITY:

Located just 12 minutes from downtown St. Louis, Collinsville, IL, is easily accessed by 5 interstates (55, 70, 255, 64 and 270), and is just a short drive from Lambert International Airport. Collinsville offers many local attractions, and has 14 hotels/motels within minutes of the Gateway Center.