June 2001 Feature car:
Darryl Dodd's 1969 Baldwin-Motion Corvette
"Phase III GT"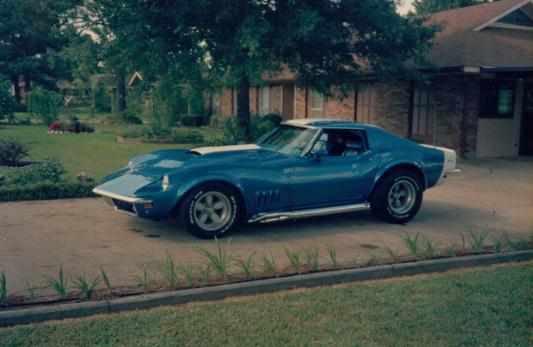 Specs:

Engine (original):
L-71 (427/435hp)
Engine (installed by Motion):

LS-6 (454/450hp, factory rated), aluminum heads, Holley 3 BBL, L-88 intake, Motion/Mallory distributor, Motion Phase III C.D. ignition

Transmission:
Muncie 4-speed w/"Hone-O-Drive" overdrive
Motion options:
Phase III package, GT package
Interior color:
Blue
Exterior color:
Lemans Blue
---
Bad luck. We've all had a case of it. Sometimes you even wonder what you have done to deserve it, but every now and then, bad luck turns into something positive. This car is one of those rare cases.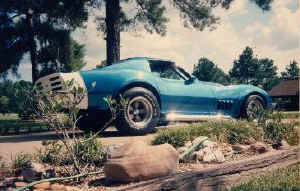 In '69, the top engine option, on the "top dog" Corvette was the tri-power 427, known to Chevy nuts simply as "L-71". The L-71 came from Tonowanda with 435hp, the most of any of the engine options in 1969, and when mated to a Muncie 4-speed and placed in the ultra-light Corvette body, magic was sure to happen. But, the original owner of this car wanted a little bit more. So, he stepped into Baldwin-Motion Performance on January 27, 1969, and ordered up an L-71 Corvette with the "Phase III" package. The total price of the car was $7380.25, which was a lot of coin back in '69. Everything seemed to be going perfect for the original owner...a new Corvette with all the "go-fast" goodies and those killer Motion looks to match. But, his luck was about to run out.
Around May of 1970, he was sitting at a stop light when someone rear-ended him. The damage wasn't too extensive, and was repaired back at Motion. With that "incident" behind him, he figured "what else could go wrong"? Well, a month later, the L-71 laid down on him, and the car was sold back to Motion Performance. Now, they could have just dropped in an L-71 short block and called it a day, but that wasn't the Motion way. Instead, they opted for the new for 1970 LS-6 short block, with a set of aluminum heads, an L--88 intake, and a race bred Holley 3-barrel carb. This now turned the "ordinary(!)" Phase III into a Phase III "GT".
The second owner then left Long Island and drove it home to New Mexico, and shortly ended it's street driving duties. Thus began the car's 11 year racing career. The third owner, a family member of owner number 2 purchased the car in 1982, and he used it for daily driving duties to work and back. Over the years, the car managed to rack up just 19,600 miles before owner number 4 bought the car, shortly before selling it to Darryl. Darryl enjoys driving the car and showing the car, as he attended the 1999 Supercar Reunion and he will be bringing the 'Vette to the 2001 Supercar Reunion.
So, there you have it. A case of bad luck, turning into good luck. A normal L-71 Corvette turning into a Phase III and then into a Phase III "GT". Kind of makes a person wish for some bad luck like that, huh?
(Written by: sYc and Darryl Dodd)
(sYc-special thanks to Darryl for the pictures and info)