June 2002 Feature car:
Peter Simpson's 1969 COPO Chevelle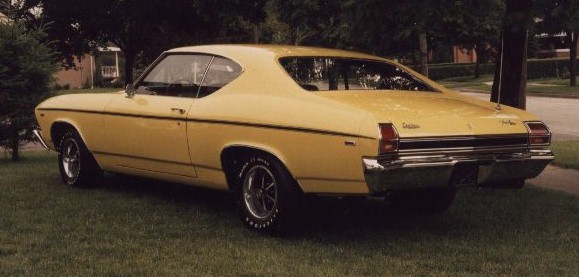 | | |
| --- | --- |
| Engine: | L-72 (427/425hp) |
| Transmission: | M-21 Muncie 4-speed |
| Rear end: | 4.10 posi |
| Options: | AM radio, "SS" wheels |
| Interior color: | Black standard |
| Exterior color: | Daytona Yellow |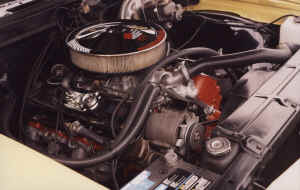 This month's feature car is a "doubly" rare example from our Supercar fanatic in the north, Peter Simpson. Notice I said "doubly". Not only is the car a Canadian COPO, but it also sports the rarely seen Chevelle color "Daytona Yellow", which was a special order item.
This super rare Chevelle shows only 37,000 original miles, and is documented by a P-O-P, GM of Canada, and by 2 build sheets! It was originally sold by Central Chevrolet in London, Ontario, and is one of only 2 Daytona Yellow Chevelles that went to Canada.
If you will recall a few months ago, we featured another one of Peter's cars, his 1970 COPO Nova. It just so happens his Nova was also sold at Central Chevrolet-Olds in London, Ontario, as well as another past feature car, Jeff Latondress' '69 COPO Chevelle. It just so happens that Jeff's car is a special paint car as well, except it wears a "Monaco Orange" paint job where as Peter's Chevelle is "Daytona Yellow". Need more? Peter's Chevelle and Jeff's Chevelle were shipped the exact same day, and these 2 special paint cars very likely shared the same transporter headed to Central! What a picture that would make!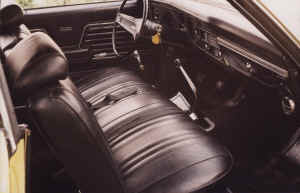 Now, I bet I know what some of you are thinking: "That car is so rare, and is so nice, I bet it's never seen a track." Well, you would be WRONG! As is the usual Peter Simpson fashion, this car gets it's share of track time, and as stunning as this car is in person, it probably runs BETTER than it LOOKS! To date, it has ran a best ET of 12.88@112 on Polyglass, with the original smog pump still intact and working, and a 12.36 on BFG drag radials. It has been on the cover of both MCR and Chevy Action, as well as featured in both, and was also featured on the COPO/Supercar episode of "American Musclecar."
One last thing, though, before this page gets the "Peter Simpson Seal of Approval", I have been informed that I have to post a picture of this EYE SORE. Enjoy!!!!
(Written by: sYc and Peter)
(sYc-special thanks to Peter and Patrick for the pictures and info)